Pat McDonald of The Charlie Daniels Band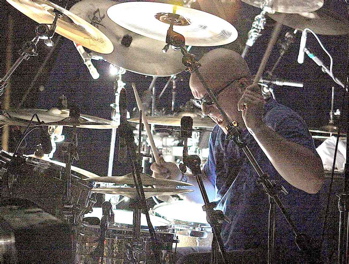 Greetings to all the MD faithful out there! My name is Pat McDonald, and I'm currently touring the world with The Charlie Daniels Band. I've been with CDB for almost ten years now, and aside from touring with the band, I'm keeping busy with session work and local gigging in Nashville.
We started out the touring season this year with the Volunteer Jam Tour featuring special guests .38 Special and Shooter Jennings. We've done several of these tours over the years, with a roster of guests including The Marshall Tucker Band, .38 Special (who have all become close friends), Dickey Betts & Great Southern, Molly Hatchet, Hank Williams Jr., Little Feat (a personal favorite of mine–I got to watch Richie Hayward lay it down hard and GREASY every night), Edgar Winter, Mark Farner, The Outlaws–another outstanding band–and many others.
A highlight of the past few years has been the giant group jam at the end of the show, where all the bands on the bill come out and play together. There have been times when we had five or six guitarists, two keyboard players, and two drummers all jamming at once. It's always a big crowd favorite and it's given me a chance to play with a lot of the guys I grew up listening to. Advertisement
Charlie is one of the greatest people I've ever had the pleasure of working with, and I'm proud to call him my friend. We have a great time onstage, and I'm constantly amazed at how humble and REAL he is: What you see is what you get. He's become close with my family as well, and he always has time to share hugs and catch up on what's going on with them. I've worked for some artists who barely knew my name, much less kept up on what my family was doing. Every year he even takes the time to call the mothers of everyone in the band and crew on Christmas Eve to wish them a merry Christmas. My mom looks forward to his calls every year. We also play a lot of golf in various towns we visit, and I've spent many hours with him riding in a golf cart, just shooting the breeze and talking football or food or music or whatever. We have a running bet during college football season–I'm a diehard Georgia Bulldog fan, he's a Tennessee Volunteers fan–and he owes me a pile of cash this year. Ha! He's a true patriot and one of the best bosses I've ever had. I'm really fortunate to be able to play with him every night.
I've been writing "conceptual" articles and posting them on my Web site now and then. You can read them at the link below. Sitting in hotel rooms or riding on the bus for hours leaves a lot of down time to think and write, and I enjoy writing about things that I've found to be important for us drummers to think about. If any of you feel like taking a look and letting me know what you think, I'd be flattered.
I've also had the privilege of getting a Grammy nomination in 2003, playing the Super Bowl pre-game show in 2005, recording a pile of new music (over ten CDs' worth), doing a few live DVD projects, performing all over the world in places like Japan, Korea, Kyrgyzstan, Uzbekistan, Afghanistan, Kuwait, Iraq, Germany, Kosovo, and Canada, playing music with several of my heroes and getting to know them as friends, and performing onstage several times for audiences of over 100,000 people–all with CDB since I got the gig in 1999. It's been a great ride, and I consider myself very lucky to be able to do what I do. I dreamed of this as a kid, and it's turned out to be a dream-come-true for me. It still freaks me out to walk into a record store and see my picture on the CDs or DVDs, or to stand onstage in front of thousands of fans who've come to see us play. Advertisement
Because of my position in the business, I've been able to grab a few endorsement deals, and I can't say enough how much I appreciate the support of the great folks at Gretsch drums/Kaman, Zildjian cymbals, Vic Firth drumsticks, Evans drumheads/Real Feel practice pads, Pearl drums, Factory Metal percussion, Westone ear monitors, DrumArt custom drumheads, and ButtKicker. I've made a lot of close friends at all these companies, and I'm really fortunate to be a part of all of their teams.
Thanks for taking the time to read, and I hope to see you guys on the road this year. Please drop me a note through my Web site, and let me know if we're coming to your town. It's always a pleasure to meet fellow drummers and talk shop!
Take care, and groove hard.
Pat
For more on Pat McDonald, go to www.drumskull.com. Photo courtesy of Scott Logsdon.