Terry Lee Bolton Blog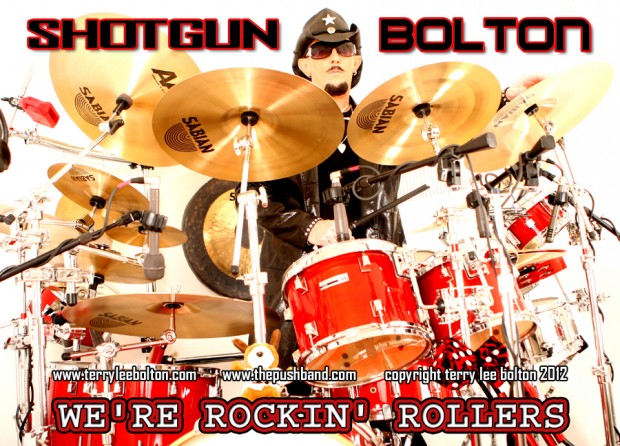 Hi, Modern Drummer readers, Terry Lee Bolton here–a.k.a. "Shotgun." First and foremost, I've been a drummer since I was three years old. I'm also a guitarist, bassist, keyboardist, vocalist, harmonica player, and mandolin player, as well as a songwriter and producer. I cut my teeth playing drums in Detroit, Michigan, but soon realized I wanted to do more than just play drums. So I packed up my recording studio, my wife, and my black lab and moved to Nashville. Man, there are some great players here!
I recently released the CD American Man, which I produced as well as played all of the instruments on. Drummers, if you've ever wondered what it's like to be a guitarist, it's a blast but a ton of work, to say the least. Guitarists, I think, already know what it's like to be a drummer–again, a ton of hard work! I was very lucky to be picked up by a distributor, and American Man was placed in Wal-Marts all across the country, as well as on WalMart.com.
For the recording I used a custom-designed Pintech electronic kit. I passed on using electronic cymbals and instead put up a pair of overhead mics and used "real" cymbals–all Sabian, one of my current endorsements. Advertisement
I've been combining my drumming with my guitar playing on stage. In my band I'm the front man, but during shows I go back to the kit and my drummer and I switch back and forth during a solo section–a treat for both of us!
I have a new CD coming out in 2009, which I'm just finishing up. It's called You Can't Have It, and for that one I used my huge custom-built red Taye kit. I'm also in the middle of recording a CD for my wife, Malanna Monroe. You could call her music "alternative classic rock," while my music is more in the vein of southern rock–maybe Mötley Crüe meets Stevie Ray Vaughan. You can find out more about her at www.malanna.com.
Some of my main influences are Neil Peart, John Bonham, Carl Palmer, Tommy Lee, and Peter Criss, and there's a ton of others. I'm very influenced by progressive rock—type drummers, but I have a tendency to keep it simple on my recordings and pump it up in my live shows. If you listen to all of my cuts you'll hear a few quads on the toms and kicks in the beginnings and endings of songs, and a bit more of that on the aforementioned Malanna Monroe material. Advertisement
You can check out more on me at www.terryleebolton.com, www.myspace.com/terryleebolton, or www.shotgunbolton.com, where I've posted video and music. Also, just for kicks, check out my '80s hair band at www.myspace.com/thepushband or www.thepushband.com. Thanks for reading, and may all your musical dreams come true.
Terry Lee "Shotgun" Bolton