Thenewno2's Oli Hecks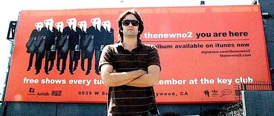 Hello, Internet! My name is Oli Hecks, and I'm a drummer/songwriter/film maker from England, currently living in Los Angeles, where I'm working and performing with my band thenewno2. My friend Dhani Harrison and I recently wrote and produced our first album, You Are Here, which came out this past September.
For the most part I played a DW kit on the recording but also a clear Vistalite Ludwig with a bunch of different snares and cymbals (old and new) for varied sounds. And I use Vic Firth wood-tip 5Bs–doesn't everyone?
I started playing drums at around fourteen years old on my sister's drumkit–which I eventually stole. I had lessons when I was younger and a few others along the way, but I'm mostly self-taught. Advertisement
The band has been playing live shows in Los Angeles and just finished a residency at the Key Club on Sunset Blvd. I've been using a dark-stained, wood-finished DW Masters Series kit with Zildjian K Custom cymbals. The drums and cymbals have been sounding amazing in the venues and on the live recordings. I also happen to have one of the most diverse ranges of second-hand drum cases in the world, previously owned by Joe Porcaro, Nick Ceroli, and Emil Richards–thanks, Emil!
Some of my main influences in terms of drummers would be Earl Palmer, Ringo Starr, Mitch Mitchell, John Bonham, Keith Moon, Jim Keltner, and Stewart Copeland. These drummers inspired me and got me excited about playing drums–and I've been playing ever since. If I didn't play the drums, I'd probably just go and play the drums.
Thanks for reading. Cheers,
Oli
For more on Oli Hecks and thenewno2, go to www.myspace.com/thenewno2 or thenewno2.com/.