Lou Santiago Jr.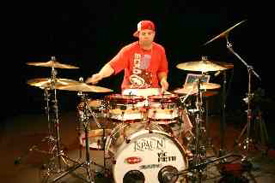 Hello, MD readers! It's been a while since I last appeared in Modern Drummer. For those of you who aren't familiar with me, my name is Lou Santiago Jr., and I was the 2003 MD Undiscovered Drummer Contest winner in the over-eighteen category. You can see me on the 2003 MD Festival DVD.
I have big news to share, but first let me give you a quick update on what I've been doing lately. Since the MD Fest I've worked with Maynard Ferguson, bassist John Benitez, Adam Nitti, Martin Englin, CCM artist Natalie Grant, Grammy-nominated worship leader Jeff Deyo, Danny Chambers, Marco Barrientos, Latin artist Raul Sanchez, and Seventh Day Slumber.
Not only have I been having a successful career as a touring musician, I've also been doing studio session work in Nashville, Tennessee and touring as a clinician for my companies: Spaun drums, Sabian cymbals, Vic Firth sticks, Evans drumheads, Gibraltar hardware, Toca percussion, and Shure microphones. Besides the MD DVD, I can be seen on Drummers For Jesus 2004 and 2006, and Supergod by CFNI Spanish school (CPLN). I thank God each day for allowing me to do what I do for him. In addition to playing I can also be found teaching the Gospel around the world. Advertisement
So what's this big news? Well, here it is! I will be teaching video drum lessons, beginning October 1, on my new Web site, www.lousantiagojr.com, for 99 cents! You will find 5- to 60-minute video drum lessons in the following categories: Technique, Rock, Afro-Cuban, Brazilian, Drum 'N' Bass, Hip-Hop, Jazz, World, Odd Time, Worship, and Miscellaneous (stick tricks, licks, etc.) You'll be able to download the lessons onto your computer, and your iPod if you wish, all in HD quality.
Hope to see you guys and gals pass through and sign onto the site–registration is free!
I can also be found on www.myspace.com/lousantiagojr and at myspace.com/lousantiagojrmuzik.
Take care, and God bless you!
Lou