Lars Ulrich: For The Greater Good
"The days of trying to outshine the band or outshine your peers, or checking to see where you show up in drummers polls, are over for me. Now it's all about the greater good."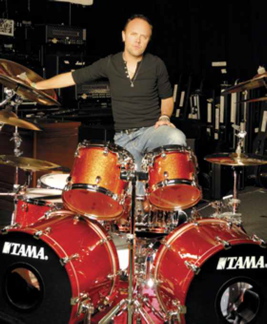 "Metallica is a bunch of guys having the time of their lives," Lars Ulrich proclaims from the basement lair of his luxury home in Marin County, California. "All the work we've done over the last twenty-eight years has found the right balance to take care of the band, the guys, and their families. The dark stuff that everyone experienced during Some Kind Of Monster is happily behind us. But our new one is probably the darkest record we've ever made. I won't say it is the best record we've ever done…it worries me when there is too much good stuff going on. I'm afraid somebody is going to drop a bomb around the corner."
With the release of Metallica's eleventh record, Death Magnetic, the band's legion of fans may feel that a bomb has been dropped–on them. Recalling the complex arrangements, daring rhythms, longer song forms, and intense physicality of Metallica's 1988 masterwork, …And Justice For All, the new album, produced by Rick Rubin, pairs organic live tracking (no click tracks) with an adventurous rhythmic approach, and Ulrich's more natural sounding drums with some of the most daring and difficult performances of his life.
From first single "The Day That Never Comes," to such heart warming titles as "Judas Kiss," "My Apocalypse," "Suicide And Redemption," "Cyanide," and "The End Of The Line," Metallica reenters the market like a possessed force: James Hetfield and Kirk Hammett's guitars blast with a luxurious, super revved-up fury, Robert Trujillo's bass is as ominous as a black storm of deadly wasps, and Ulrich's drums slam the senses with a newfound purpose and resolve. Advertisement
Far from Metallica's early records, when the production sound of Ulrich's drums recalled mega-amplified straws swatting a million flies against the wind, the Danish drummer's sound on Death Magnetic is both natural and artificial, incredibly powerful, dynamic, and, finally, personal. Moving away from the sampled, treated sounds Metallica used to fortify Ulrich's drums in the '90s, producer Rick Rubin demanded that the forty-four-year-old former tennis prodigy record his drums almost entirely au naturel, meaning that when Ulrich strikes his Tama Bell Brass snare drum, you hear it exactly as he did in the studio.
Ulrich's bass drum–what Hetfield calls "the click drum"–retains its alien-like punch-to-the-pelvis clarity and attack, but that too is the result of simpler recording methods and a more direct approach. Finally, Metallica eschewed extensive Pro Tools trickery on Death Magnetic, instead tracking live, like a band, like the old school, like a live performance, like their lives depended on it.
Ulrich is the first to say that the band's unholy monster trinity of the '80s–Ride The Lightning, …And Justice For All, and Master Of Puppets–was for years the million-pound gorilla in Metallica's closet. But with interpersonal band problems behind them, and perhaps more importantly, the maturity that comes with age now upon them, Metallica have seized their demons by the neck, expelled them from the kingdom, and returned to make one of the great metal albums of 2008. Advertisement
The songs of Death Magnetic might be too long for some, too intricate and overblown for others. But as Ulrich himself says, "People might say that this is a return to our roots. I'm certainly not going to argue with that."
MD: Each Metallica album has a story behind it. What's the story behind Death Magnetic?
Lars: I am still trying to figure that out! By the time most of these songs started taking final shape during the last six months, we realized that there was a significant thread running through the record. The songs are about death, obsession with death, anticipation, suicide, trying to control death from either side, redemption, forgiveness–all of these lighthearted topics! So as we found ourselves sitting and trying to come up with album titles, there was a lyric in the song "My Apocalypse," literally the words "death magnetic" next to each other, and we thought that was unusual, cool, and mysterious, that magnetic element of being attracted and repulsed by death.
MD: Each song is long and packed with complex time and texture changes, polyrhythms, three-over-two rhythms, double time, cut time, shuffles–it's very intricate. Is this a return to the style of …And Justice For All? Advertisement
Lars: Certainly people can argue that, but there was no thinking, "Let's return to …And Justice for All." We always held those records from the '80s in such high regard that we spent the '90s making sure we ran as far away from them as possible. We've been maybe overly protective of those records and scared of doing anything that would dilute them. But our producer, Rick Rubin, told us that it was okay to be re-inspired by and revisit those records, to feel what was happening with the band at that time, and to acknowledge that it was special.
In the summer of '06 we got to re-experience Master Of Puppets and share it with the fans on a summer tour. We relearned the album and fell in love with it and realized that it was okay to be re-inspired by it and revisit that music that had maybe been dormant within us. Of those three records, Ride The Lightning, Justice, and Master of Puppets, Justice is the most extreme in terms of the nuttiness and the sideways time signatures. It's also the record that in some way drained us to the point of having to walk away from it and simplify. People might say that this is a return to those roots.
Read the rest of this interview with Lars Ulrich in the December 2008 issue of Modern Drummer on sale now in print and digital.