Felipe Torres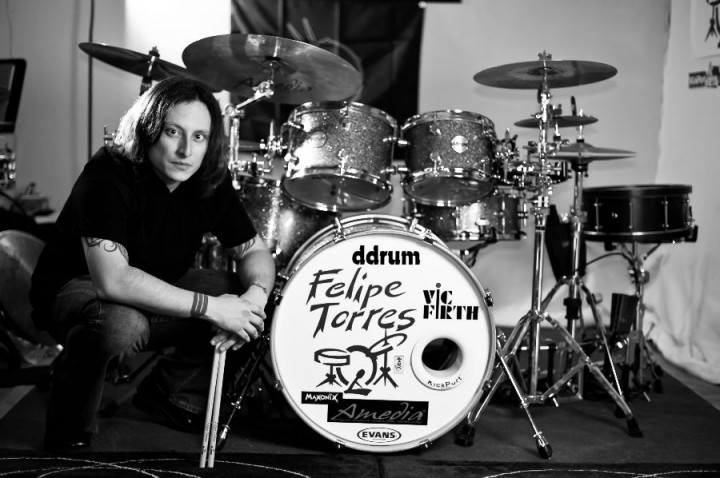 Hi to all my fellow Modern Drummer readers. My name is Felipe, and I've been playing drums for thirteen years. As I write my first blog for MD, I'm currently getting ready to tour with a new band for me, STM Records' ISM.
But before I tell you where I'm going, here is a little about how I got into drumming. I was born in Germany, spent my childhood in Colombia, then in Staten Island, and the last fifteen years in New Jersey. I started playing drums at fourteen, after my younger brother came home with a trumpet and I saw that with some lessons, and my supportive family, I could learn an instrument. Before that I always loved music and heard everything from The Beatles and Santana to old Colombian Cumbia rhythms. But once I saw that my incessant tapping could be channeled into making music and that I could maybe play in a band, I was hooked.
Of course, after about two weeks of trying to learn on my own with the used drumset I begged for a year to get, it was time to get a teacher. I really lucked out because my first instructor, Russ Dibona, is not only a great teacher and drummer, but an excellent guy, and he got me into a world of great music. In high school I played in every group I could, from marching band to chorus, and I was voted band president by senior year. It was then that I started taking lessons at New York City's Drummers Collective with such notables as Sandy Gennaro, Mike Clark, Ian Froman, Guy Licata, Vince Cherico, Memo Acevedo, and Gary Kelly. Throughout my years in the New York area, I also studied privately with Horacio "El Negro" Hernandez, Robby Ameen, Matt Johnson, Billy Ward, and Joe Ascione. I also made a lot of connections, and from teching for a lot my teachers whenever possible, I learned a lot about music, musicians, the road, and the overall aspects of being a professional musician. Advertisement
Through the years, I've done several American and Canadian tours with Dreamworks artists Ours, Roadrunner Records blues artist Peter Karp & The Roadshow, jump/jazz band Jumptime, Lizard King Records rock band Surefire, and The Monkees. And for the last four years I've been drummer/back-up vocalist for The Davy Jones Band. At the beginning of 2008, I became a cast member in Carmine Appice's theatrical percussion show Slamm, and we got to open this year's Modern Drummer Festival, which was a dream come true. Also, this past winter, I received my first official endorsement, with Evan Drumheads.
And finally, this fall I joined New York—based quartet ISM, a potent blend of rock and electronica. On the recent release of their second album, Urgency, ISM and I have been getting ready to tour the US in October and November, after my first gig with the band, a taping for New York rock show Fearless T.V.
In preparation for touring with ISM, who have already toured for a while and work well together, I found myself diving headfirst into the music. I want to really focus on being a musically supportive and inspiring part of an already finely tuned team. That means listening and charting out tunes and working a lot with a metronome, since the band uses a broad mixture of live effects with innovative backing tracks. As we're all pretty much the same age and from the same area, this is the first touring band I've worked with where we have a lot in common both musically and in terms of where we are in our lives. The players are focused and eager to work, and they're genuinely expressing themselves through original music. Look out for ISM in the coming year, and check out www.facebook.com/FTDrum for more info. Advertisement
All the best,
Felipe