Ricardo Lagomasino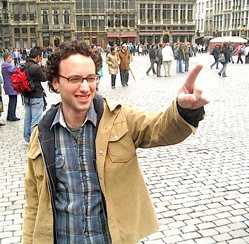 I played in a Rush cover band in high school. I went to jazz school. I played in a West African dance troupe. I marched snare drum in a drum & bugle corps. There were times in my life when I was going to rehearsals for a pop band, a speed metal band, a big band, and a jazz quintet all within the same day.
Playing the drums has been one of the most important decisions I have ever made, and I made it early. I knew from the start that I this is how I wanted to make my living, so I knew that I needed to round myself out. So I put myself in as many different situations as I could. And I'm glad that I did, or else I wouldn't have had the same kind of experience playing in Capillary Action, a band that can touch upon a myriad of influences, all in two-and-a-half-minute bursts.
I am only one of many drummers who went to jazz school but grew up listening to and playing rock music. There are plenty of people out there who love to play both and are good at playing both. But they keep the gigs separate. They have jazz gigs, and rock gigs. But how do you do it all on the same gig? Going from a blast beat to up-tempo jazz can be tricky, especially if you want to stay true to the original forms. But it's really not that unrelated. This is what I try to do in Capillary Action. I try to reconcile genres and find the common ground. I try to do everything I hear on my little four-piece kit with an 18″ bass drum, two cymbals, and a hi-hat. At times, I'm called upon to play like Ed Blackwell in one section, then like Dave Lombardo in another. It was a bit mind-bending at first, keeping in mind dynamics and tempo. But after over two years of touring with these songs and playing more with the band, the transitions came more and more easily. Advertisement
I've acquired a lot from playing in that band, and I've taken it with me. I play with Joe Lally (of Fugazi), a joy considering I loved Fugazi as a kid, and Altamira, my own instrumental heavy jazz/punk project. Those projects are drastically different from each other. With Joe, I mainly lay down some grooves to bass lines while Joe builds the songs around me. And Altamira is—well—another reconciliation project, although it is mostly loud. We play really firmly composed new music interspersed with sections of complete freedom. On our last tour we shared bills with folk groups, improvised new music, punk bands, even metalcore bands.
The last year has been quite busy. I've toured throughout the US, Canada, and Europe with Capillary Action, Joe Lally, and Altamira. I've also done a few records including the second releases of both Capillary Action and Joe Lally. And I'm in the process of recording Altamira's debut record, which will hopefully be done before the end of the year. For now, I'm at home in Philadelphia teaching lessons, writing music, and playing locally in the area.
For more on Ricardo Lagomasino, go to www.myspace.com/ricardolagomasino.