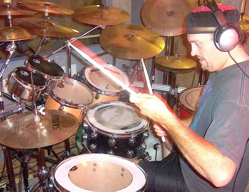 Hello, MD bloggers! My name is Bruce Burgess. First off, I just want to say thanks to Modern Drummer for this opportunity. MD has been a vital part of my musical upbringings for the past twenty years.
I started off as a rock drummer, but over time I've evolved into classical, jazz, and world-music playing styles. Some of my favorite players are Terry Bozzio, Neil Peart, Tony Williams, Steve Smith, Dave Weckl, Steve Gadd, Stewart Copeland, Bill Bruford, Danny Carey, Carter Beauford, and Mark Zonder. I've also had the privilege of studying under big band legend Louie Bellson and Nigerian drum master Babatunde Olatunji.
Over the past five years I've played drums for the Tool-influenced rock band Seven Against Thebes, who are based out of Seattle, Washington. Apart from traditional rock, I've always been fascinated with music from other cultures. I've studied Algerian, Moroccan, Haitian, Greek, Indian, and Arabic rhythms–more specifically, the Yanvanlou, Elleggue, Samba, Bembe, Masmoudi, Adowa, Hemiola Mambo, and Santeria styles, just to name a few. Studying the drums in these types of music made me realize why I began playing drums in the first place. Drumming by nature is a very primal expression, and it's a language mankind has been speaking for centuries. It's universal, meaning everyone can relate to it, and it exists in almost every form of music. It's therapeutic for me to go back in time thousands of years and study the roots of this truly amazing musical instrument.
It's this philosophy that inspired me to create Drum Dynasty. Over the past three years I've been working with producer Cyrus Rhodes, world-class percussionists Arturo Rodriguez and Marco Zonka, and film composer Kevin Christensen in creating a musical experience that is totally unique and amazing. The debut (double) CD showcases advanced odd-time drum compositions meshed against world music. It's an open dialog not only between different drums, but between different cultures and even time periods.
When you listen to Drum Dynasty for the first time you can't help but notice a hidden language going on between all the different instruments. It's a concept I like to call "drum language." You really have to hear it to understand it. You can literally hear all the different drums speaking to one another in a syncopated rhythmic language. Each one has something different to add to the conversation.
The format of this double CD set is that of a musical journey. Each CD has a separate name that represents a different musical venture. Disc one, Mystic Sunrise, is a mystical journey that takes the listener through many parts of Persia, India, Southeast Asia, and the Middle East. Disc two, Dark Continent, is much more primal and tribal and explores African music. Mystic Sunrise is more melodic and spiritual, while Dark Continent is darker and more primal.
In closing I just want to say that the day I realized that American music made up just a small portion of all the world's music, my eyes as a drummer were opened. I found out that I was missing out on a whole lot of great music out there. Unfortunately our record companies decide what kinds of music we listen to these days, so as a result we just don't get exposed to enough of it. But I'm here to tell you that if you take some time go check out some of it, it will change your musical outlook forever. Take Africa, for example. Depending on what region you're talking about, there can be thousands of different musical styles and rhythms–and that's just one continent. You could spend a lifetime studying Ghanaian rhythms alone. As a musician I believe it's this kind of exposure that can make you a better drummer overall. Thanks for reading.
Bruce Burgess
For more on Bruce Burgess, go to www.7at.net, www.drumdynasty.com, or www.kataviarts.com.