Sean Davidson from Blacklist Union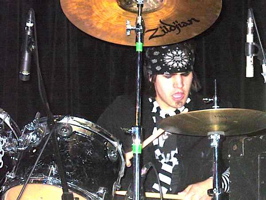 This coming July 22, my band, Blacklist Union, are set to release our new album, Breakin Bread With The Devil, produced by Chris Johnson (Evanescence, Josh Todd) and Anthony Valli of Crazy Town. Our record release party will be on the Sunset Strip in Hollywood on Monday, July 21 with Steel Panther (previously known as Metal Skool). Should be great.
I'm really proud of my playing on the whole record, but I think my favorite song is the title track. I call what I'm doing on that song my "evil disco beat." Also, it's a really short song and is just high-energy the whole way. I love playing it live.
I love all kinds of music, but I'm a rock drummer at heart. My influences are the guys who demanded attention behind the kit. I love John Bonham, Keith Moon, Tommy Lee, Dave Grohl, Shannon Larkin, and Morgan Rose, to name a few. These are some of the guys who I love to watch as much as I love to listen to. They put out so much energy live that they take the bands they're in to new levels, and on record each one of them writes drum hooks. People who don't even play drums can't help but air-drum to these guys' songs. Advertisement
Before I was allowed play drums as a kid, my parents insisted that I take two years of piano. They said I had to prove that I was serious about playing an instrument, and that it would be a big help if I could learn to read music. I agreed and took two years of piano lessons. I hated it at the time, but now I'm glad they made me do it! I wish I had stuck with it more.
I'm mainly self-taught on the kit. I would put on my favorite records and try to figure out what the drummers were doing. I would spend hours sitting at my kit, teaching myself. I had a couple teachers for short periods of time, and they were great players. But they were very jazz- and classical-oriented, which just wasn't my thing. I wanted to learn how to spin sticks and be a rock drummer, and they just shook their heads and said, "No, no, you need to learn to play jazz beats and the rudiments." They did give me some great drum books that I still practice with today, but at the time I just wanted to jam. So I found some kids in my grade and started a band, and we learned from each other.
My kit is always changing. Right now I'm really scaled back: one rack tom, two floor toms, single kick drum. I'm playing smaller tom sizes too: 10″, 12″, 14″. DW drums already have lots of low end, so I can tune these drums a little tighter so they cut through but still sound huge. I also like to use big crashes, usually 18″ or 19″. The equipment I use includes DW drums, hardware, and pedals, Zildjian cymbals, Aquarian drumheads, and Vater 5B wood-tip drumsticks. Advertisement
I always think it's hard to describe your own playing; it's much easier for other people to describe what you do. I think I'm a pretty straightforward drummer. I try to write stuff that will get people moving and that leaves space for the lyrics. I want people to move to what I play, not go, "Man, that was the fastest double bass" or "Wow, did you hear all those crazy fills?" Live is where I go nuts. I do a lot of big arm movements and hit as hard as I can. I love to put on a show, not just sit there and keep time.
In Blacklist Union I'm not just the drummer, I'm also in charge of keeping up with MySpace work and answering all the messages. I'm also the contact person for a lot of the day-to-day business of the band. We all have our "jobs" in this band, aside from playing our instruments, and it really helps get the most done.
As for the future? The first answer that comes to my head is world domination. I love playing drums, and I hope that I can make a living at this, see the world, and get to meet all kinds of amazing players and make great music along the way. Advertisement
For more on Sean Davidson and Blacklist Union, go to www.blacklistunion.com or www.myspace.com/blacklistunion.