Mayhem Week! Mike Wengren of Disturbed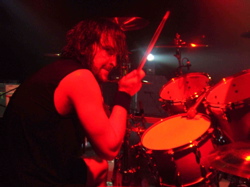 Mike Wengren from Disturbed here, writing in from The Rockstar Energy Drink Mayhem Festival. It's day 7 as I write this, and we're in Phoenix, Arizona. It's been a crazy hot one today!
This tour has been really awesome so far. All the bands are kicking some serious ass! It's been fun for us to watch them throw down throughout the day. They really inspire us to step up our game every night. And we're also very excited that our new album, Indestructible, is out and doing well. It's been cool to be able to play the new material, and the response has been incredible.
We've brought some new production with us this time around, and it's been fun to play with the new "toys." I feel like a kid on Christmas morning! I have a new Pearl Reference kit. It's my first tour playing this series, and I couldn't be more impressed with the tone. I've also added a 10″ rack tom to my existing setup of 12″, 14″, 16″, and 18″ toms. It's great to have that third rack tom to pound on. I really feel the higher tones help bring out my fills and help the separation of my polyrhythmic tom patterns over the underlying kicks.
The paint job on this kit is just sick!!! My main man Nub of Nub Grafix and Discovery Channel's American Chopper/Orange County Choppers just went to town and hand painted/airbrushed the hell out of it. He worked a ton of hours on it and it really shows. I'll try to get some pics up online as soon as I can. Advertisement
I also have finalized my new Vater signature drumsticks. They're sort of a hybrid between the Power 5B and the 1A. Playing with them has improved my performances.
One of our favorite things to do is check out the other bands on this tour. I haven't been able to see everyone yet, but so far it's been a drummer's fantasy. This tour has some of the best pounders out there–Joey Jordison (Slipknot), Dave Mackintosh (Dragonforce), Brann Dailor (Mastodon), Dave McClain (Machine Head), Jeremy Spencer (Five Finger Death Punch), Steven Spence (Black Tide)—and that's not all of them!
Time to go throw down myself! Hope to you see you all soon.

For more on Mike and Disturbed, go to www.disturbed1.com
Photo of Mike Wengren by Adam Cook.