"Sweet" Joey Valentine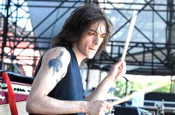 "I Have Fun, Too": From New York to LA, ace drummer "Sweet" Joey Valentine talks about making the world's craziest record and the strangest tour ever.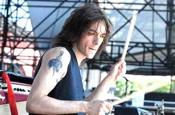 Before I left New York this past fall to conquer Los Angeles, I got to be part of one of the best and strangest records ever: a CD version of Mike Edison's memoir, I Have Fun Everywhere I Go–Savage Tales Of Pot, Porn, Punk Rock, Pro Wrestling, Talking Apes, Evil Bosses, Dirty Blues, American Heroes, And The Most Notorious Magazines In The World. Mike was the publisher of High Times magazine, a writer for Hustler and Penthouse, a part-time professional wrestler, and an infamous punk rock drummer. The album is the spoken-word version, produced by Jon Spencer (Blues Explosion), and you have to hear it to believe it. Yes, it's that wild and sleazy.
Recording the basic tracks, we went for that smoky, big-room drum sound of yesteryear. Upright bass, brushes, trashy ride cymbals, dope beats, epic open-handed fills, a 1950s Slingerland snare, a sick (but disease-free) organ, and tweaked out electronics, blips, beeps, and belches are just a few examples of what kind of twisted record we made. The spoken portions from the book are very enjoyable as well–I mean, that's the whole point.
When the book came out we did a West Coast tour to support it. (Check out a typical bookstore "reading" here: www.youtube.com/watch?v=hZy8ZJoI15w. I could only afford to bring one piece of luggage aboard the plane. So, in lieu of a bass drum I used my hard plastic snare drum case. I gotta tell you, it wasn't too far off from an 18″ bop drum (minus the sound, look, and feel of course). But hey, we threw a scarf over the little bugger and it did the trick. It ended up being the most compact kit I've ever played: 19″ riveted cymbal, snare drum, and "bass drum," all neatly fitting a into a rolling duffle bag with the hardware, sticks, and my underwear.
I first met Mike in 2000, when I was twenty years old. He enlisted me to play drums in his new rhythm 'n' blues/punk band, The Edison Rocket Train. When I say drums, I mean only drums–no cymbals whatsoever. Sounds easy, right?
Wrong.
I had a lot of sound to fill and much rhythm to make, as The Edison Rocket Train only consisted of Mike playing guitar and singing, a maraca player, and occasionally sax or harp. Think driving train beats, swingin' snare shuffles, classic Bo Diddley beats, four-on-the-floor stompers, and full-force floor tom bashers, not to mention slammers, whammers, and various jammers. But no guitar solos.
We also added to our arsenal a theremin and a 22″ wind gong. Gongs are traditionally played with mallets, but we opted for the backside of Mike's Telecaster, my head, the floor, my shoes, and random audience members. Somehow, the gong ended up cracking.
I thought I was real hot stuff before. But playing in this band helped me get to the next level, and we really got to cut our teeth on the New York City dive bar circuit. I even sort of remember one night where I turned twenty-one on stage at Manitoba's on Avenue B.
By the time we were ready to record an album, my beat was impenetrable. I cut all my drum tracks on Yes, Yes, Yes in one day and on only two hours of sleep, and I still stand by those takes. We made a kick-ass record.
My punk band at the time, The Star Spangles, got signed to Capitol Records/Parlophone, so I had to leave Mike's band to tour the world, put out records, and do whatever it is bands are supposed to do. After having the time of my life, I hooked up with Mike again three years later. I left The Spangles to start The Coydogs, along with recording and playing with various NYC groups The Witnesses, Baby Shakes, LiveFastDie, Alana Amram & The Rough Gems, and The Lost Crusaders. But between Mike taking away my cymbals and putting me on the road with a snare drum case as a bass drum, I have to say they were some of the most difficult but most rewarding gigs.
These days I find myself excited to be living in Los Angeles. (Mike works out of New York.) I got a hip new rock 'n' roll combo, Mack Winston & The Reflections, along with making music for television and for other artists. I love my new band, and it seems it's not too difficult to set yourself apart from other bands out here if you don't have a cheesy image or are not stuck trying to "make it."
Having good songs helps too.
To hear some of I Have Fun Everywhere I Go, check out www.myspace.com/ihavefuneverywhereigo. I Have Fun Everywhere I Go the CD is available on iTunes and at www.amazon.com. The book is available at amazon.com and wherever books are sold. Visit Joey at www.myspace.com/mackwinstonandthereflections. And check out Mike Edison's crazy drumming history with a free twelve-song download, How Punk Rock Ruined My Life, available at www.rockettrain.com.