Carl Palmer: Asia, Alpha & Astra = Phoenix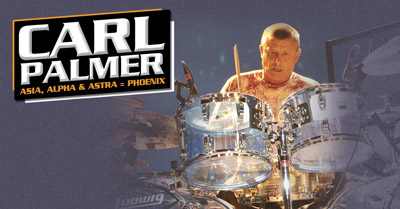 by Ken Micallef
"Asia isn't about showing the expertise of the bandmembers. With The Carl Palmer Band, it's different; I want to show every firecracker I've got."
As if channeling the cosmic power encompassed in the prophetic "Alpha and Omega" from the book of Revelation, tuneful progressive rockers Asia envisioned themselves as near deities when their albums topped the charts and sold millions in the 1980s. Forget classic rockers, these guys really did wield their instruments like superhuman beings, though their biggest hits–"Heat Of The Moment," "Don't Cry," "The Smile Has Left Your Eyes"–mined prog rock's occasional fondness for melodramatic balladry over fantastic instrumental displays. But with a band lineage the caliber of Asia, you could play anything (and they did), resulting in the cosmic album titles, Asia, Alpha, and Astra.
Drawing their ranks from the finest prog rock ensembles of the 1970s, Asia's heroic roster–Carl Palmer (Emerson, Lake & Palmer), Steve Howe (Yes), John Wetton (King Crimson), and Geoff Downes (Yes, The Buggles)–had it all–great tunes, towering technique, men in tights. And now, twenty-five years after he recorded their last album with its original lineup, Carl Palmer returns to Asia for Phoenix.
"The original lineup only played together for two years as Asia," Palmer explains from a Manhattan hotel. "We had internal, medical, and personal problems. But the first album, Asia, was colossal; it was number-1 for nine weeks–single and album. Out of the box Asia sold more records than ELP. But even though Asia sold four million, we sold less of the second one (Alpha, 1983), and the third (Astra, 1985) was half a million. I've actually been paid on thirty-five million ELP records. And what you've actually been paid for is the number that matters." Advertisement
Palmer, a legendarily energetic drummer who humorously claims to "make coffee nervous," has maintained an incredibly busy pro schedule for almost forty years. The pace has paid off: palmer can lay claim to have played on three British number-ones with three different bands–Arthur Brown ("Fire"), ELP ("Fanfare For The Common Man"), and Asia ("Heat Of The Moment).
The '90s and '00s have seen Palmer striking out on his own, most recently with The Carl Palmer Band. CPB has released Working Live, Volumes 1 and 2, as well as In Concert: Carl Palmer Plays The Music Of ELP. The albums feature all the Palmer trademarks: earthquake rumbling gong cracks, blazing single-stroke rolls, fierce full-set prog rhythms, mighty crossovers, and the incredible snare drum technique that is Palmer's calling card.
The release of The Carl Palmer Band's Working Live, Vol. 3 will coincide with the group's 2009 US tour, which could conceivably bump up against an Emerson, Lake & Palmer reunion tour. Add Asia's Phoenix, the ongoing Shout Factory ELP CD reissue campaign, and Palmer's clinics for deaf and blind children in the UK, and you have a drummer near the height of his powers, clearly in tune with the past and the present. Advertisement
MD: Why is Asia reuniting for a tour and new album now?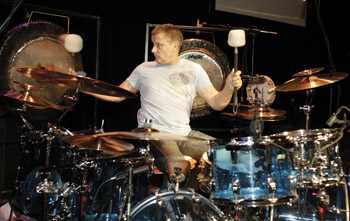 Carl: We did a twenty-fifth-anniversary tour last year. We started off in the UK, which was fantastic. Then we came to the US, and it was even better. Then we went to Japan, and the response was stupendous. It's surprising, actually. "Heat Of The Moment" was in the movie The 40 Year Old Virgin, and the band's poster was visible in one scene, above the electronic drums in [Steve Carell's] kitchen. The music was also in Pierce Brosnan's film The Matador. So it seems there is quite an awareness of Asia out there. Based on all of that, we simply decided that putting out a new album would be a great thing to do.
MD: What recording set did you use on Phoenix?
Carl: A set made for me by Brady eleven years ago. Morris Lang added all of the gold-plated fittings. It's a lovely Jarrah ply wood drumset–very, very strong wood. I use two hanging toms, two floor toms, and two bass drums.
Live, I've gone back to Ludwig Vistalites, the first time in thirty-five years. I love my Brady drums; they're the best of the wood. Paiste also made a complete set for me out of their 2002 alloy. That set has two bass drums, two floors, and two hanging toms as well. But those bass drums weigh ninety pounds! So I have the best of the metal drums, the best of the wood, and I also love the Ludwig Vistalites. Advertisement
When Ludwig reissued the Vistalites, I asked if they'd be interested in my returning. They said yes, even though I use the Brady kit for my band in England and the Paiste set for teaching and drum clinics. But I use the Vistalites with Asia, especially when I'm touring in America and Japan.
MD: Why did you leave Ludwig all those years ago?
Carl: When they first started making Vistalite drums, I was in ELP. I played Ludwig wood drums from day one, at Madison Square Garden. But then they made Vistalites. They were very keen on me playing them, and I was initially happy with them. But then they began making rainbow Vistalite kits, which they created by hammering the colored circles together to form shells. Frankly, those drums weren't built well. That's when I decided to leave Ludwig and had the custom-made stainless-steel set built. But I did like the original Vistalites.
MD: What is it about the Vistalite sound?
Carl: Well, to compare, the Paiste drum sound is quite ringy. The Brady Jarrah kit is not a warm sound, it's hard–though you hear the sound back a lot quicker, especially from the toms. As for the Vistalites, they have a very natural, warm sound, especially now the way Ludwig cuts the bearing edges. Advertisement
I'm a drum whore; I know it. I want to have the best wood drums, the best metal drums, and the Vistalites. The Vistalites have a sound all their own. The bass drums and toms are exceptionally good, although the snare drums are a little weak for me. I use a Paiste snare drum on the kit, which is absolutely gorgeous. I love the look of the Vistalites and the whole ethos of it–it was the first big American drumset. I know, I've had more sponsorships than most people have had dinners. I've been with so many drum companies. I've been naughty. [laughs]
Read the rest of Carl's interview in the September issue of Modern Drummer.