Ty Dennis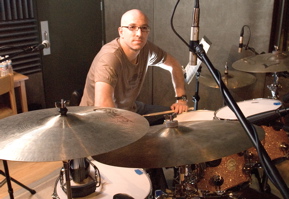 Hello, fellow drummers! I've been a loyal MD reader since the seventh grade, and I'm happy to contribute here.
This past April I wrapped up another tour, this time through South America with Doors guitarist Robby Krieger and keyboard player Ray Manzarek. (Due to the ongoing lawsuit regarding the use of the name The Doors, the band has been calling itself Riders On The Storm for the last few years. Prior to that we were known as The Doors Of The 21st Century.) We played shows in Brazil, Argentina, Chile, Ecuador, Peru, and Columbia. The fans in South America are some of the greatest in the world, and they're always so enthusiastic and just so "into it."
This was my first trip to Peru, and what a great show it was. We played outdoors, and there were somewhere around 10,000 people there. In Ecuador, so many fans tried to get into the sold-out show that the police outside ended up using tear gas to break up the crowd because a couple thousand very excited people couldn't get in. A couple songs into our show, we had to stop and leave the stage for forty minutes to let it air out, because that tear gas made its way up to the stage. It burns all the way down your throat, let me tell you! Ray was having a rough time breathing there for a minute, and his eyes were watering big time. Anyways, we came back on, finished the show, and kicked ass!
The last show of the tour in Columbia was a smaller, indoor venue, and it was another sell-out. It was easily way over a hundred degrees on that stage, and it was like being baked alive in there. I really had to pace myself, drinking bottle after bottle of water. And Owen, my good friend and tech, was pouring water over my head. Hey, you do what you gotta do for rock 'n' roll. Advertisement
What led me to this gig? I toured with Robby Krieger's solo band back in 2001/2002, right before The "new" Doors got back together. The band then was Robby and Ray, with Ian Astbury of The Cult singing and Stewart Copeland on drums. I ended up subbing for Stewart for a couple rehearsals over at SIR in Hollywood, and I even got to play his drums (the green Tama Strarclassics). This is where I got to meet Ray and Ian for the first time. I remember playing "When The Music's Over" and "Riders On The Storm," and there were definitely some magic moments that happened. Playing behind Ray on his solo on "Riders On The Storm" was a pretty awesome feeling! They next asked me to fill in for their live performance on the Craig Kilborn show (we played "Break On Through") and their live broadcast on the Mark & Brian radio show from The House Of Blues in Hollywood. When Stewart was no longer involved with the band, I got the call, and the rest is history.
I've had the honor of working with Robby and Ray for over five years now. We've played all over Europe, the UK, Australia, Japan, South America, Mexico, Canada, and the good old USA. It's great to be able to play in places all over the world that The Doors never visited before, and the audiences are so enthused to experience what Ray and Robby do live.
This is a great gig for a drummer because a lot of times it's more like a jazz-rock band, and you get to jam. If you've heard any of their live records, then you know that they really take it out there. I appreciate that they welcome the spirit of experimenting and just "going for it." I gotta say it's an honor to be filling the big shoes of both John Densmore and Stewart Copeland. What are my favorite tunes to play? "Break On Through," "Riders On The Storm," and "When The Music's Over." Advertisement
An added bonus with these tours is that you get the chance to check out other bands and other drummers. To name a few: Clem Burke with Blondie, Dean Castronovo with Journey, Graham Hawthorne with David Byrne, Simon Phillips with Toto, Doane Perry with Jethro Tull, and Joey Kramer with rock gods Aerosmith! And I got to watch Carmine Appice with Vanilla Fudge many times when we toured with them. That was bitchin'. Realistic Rock anyone?
Yes, I drank the DW Kool-Aid. I love them. Everywhere I go their drums deliver, and the hardware stays in place! My kit has the VLT shells in champagne sparkle/broken glass finish. I've got a 22″ kick and 10″, 12″, 14″, and 16″ toms. I usually use either a 5×14 VLT maple snare or a 7×13 Edge, but depending on the gig, I might go for one of my Ludwig metal drums. I'm very happy to play Bosphorus cymbals. Michael and Kevin are the greatest and really take care of me over there. With The Doors my setup is, from left to right: an 18″ Ignacio Berroa crash with rivets and a 10″ Traditional splash inverted on top of it, 14″ Gold hi-hats, an 18″ Traditional crash/ride, a 21″ Traditional medium ride, 13″ Turk hi-hats, a 19″ Traditional ride (used as a crash), an 18″ Gold China with an 8″ splash stacked on top, and a 20″ Traditional China. I'm a Vic Firth guy, and I use the Extreme 5B wood. Love 'em.
I've also been keeping busy touring with this great LA-based band called Firebug. A new independent release that we recorded over the last year called Season For Change was just released, and we've been on the road, including stops in Vancouver, Toronto, Chicago, New York City, Austin, and all over England. I recently did some tracks here in LA for my buddy Travis Dickerson, for a pretty interesting instrumental project featuring Buckethead on guitar. Other drummers on it are Doane Perry, Vinnie Calaiuta, Brain, and DJ Bonebreak. Next up for me is a "Doors" tour in Europe this July. It's all good! Advertisement
If you're on myspace, drop by and say hi sometime! See you on the road.
TY
For more on Ty Dennis, go to www.myspace.com/tydennisdrummer or www.tydennis.com.