Patrick Berkery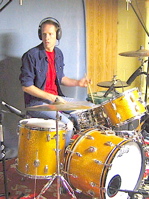 When your marching orders for a session include learning an ABBA album track, Journey's "Wheel In The Sky," The Monotones' oldie "The Book Of Love," and a shape-note singing field recording with no discernable tempo called "Sermon On The Mount," you're in for an interesting day at the office.
The office on this particular day was the studio of Daniel Smith, aka Brother Danielson, leader of the Danielson Famile. They're a New Jersey—based collective with enough delightfully twisted melodies that they've earned a nice fan base in their dozen or so years of existence.
This was my first time playing with Daniel. We were introduced via a mutual friend, Philadelphia-based producer/engineer/singer-songwriter Brian McTear, aka "my pimp." I call Brian my pimp because he's been kind enough to recommend me for some choice gigs over the years. And he's got a thing for flamboyant couture and circa late-'70s Cadillacs, too.
But I digress—.
The day begins with me loading the Ludwigs and some assorted odds and ends into the car and trekking down to Daniel's place in rural south Jersey from my home in central Jersey. The musicians Daniel has assembled for the session either live in the Durty Jerz or have Jersey roots, and I like that. People, especially those in Philadelphia (where I lived for a half dozen years) like to mack on Jersey and its citizens. But when Philadelphians want cheap booze, and the GOOD tomatoes, asparagus, and blueberries–not to mention a beach–they can't make it over the bridge fast enough.
Again, I digress—.
As Daniel has a couple of little ones in school, he's set up the session like a proper workday: 9:30-5:30, with a lunch break. I arrive first, so we can get the tubs up and get sounds. Everyone slowly trickles in thereafter: Josh Stamper on upright bass, Ted Velykis on guitar, and Chris Palladino on keys. As Daniel's setting up, we take a quiet pass through "Wheel In The Sky." I was surprised I knew this song as well as I did. Then again, I am from Jersey. Not being a Journey fan, though, I'm even more surprised at how badass Aynsley Dunbar's groove was on this song. Lots of fun to play, as was the ABBA track "Eagle," which we successfully transformed from slick '70s Eurotrash pop into something that sounded like a "Some Girls" B-side.
Never did get to "The Book Of Love," because the covers–slated for inclusion on a Danielson compilation–are actually second in priority today. The main purpose of the session is to get a basic track for "Sermon On The Mount," which Daniel has been commissioned to record for a companion soundtrack to a documentary on shape-note singing called "Awake, My Soul." And here's where the fun begins.
Daniel produces sheet music (yes, I'm immediately lost) for this very–to my ears–odd a capella field recording. The music shows time signatures of 3/4, 6/8, and 2/2. But with no rhythm section or any instruments to refer to, there's no "feel" to cop. There's rhythm to the singing–beautiful voices, singing in harmony and in unison–so we use that as a vague jumping-off point.
We noodle around for a bit, establishing tempos and fumbling through transitions. Nothing like playing a little soft-shoe shuffle with brushes, then having two beats to chuck the brushes, grab sticks, and fall into a slow waltz time.
Daniel suggests spots for dynamics, and coaches us through how he'd like the double-time section to go, telling me to throw in big fills every four bars. I like this guy already.
We're drilling parts for fifteen minutes at a time, and finally get comfortable enough to play it all the way through once. By our estimation, we spend about three hours working on a one-minute, forty-five-second piece of music. (This arrangement will essentially repeat twice in the finished product, through the magic of technology.)
Of course after we return from lunch we try running it down again, and none of us seem to remember it. Luckily it comes back pretty quickly, and soon we're tracking the "front" section. Think we got it in two takes. Then we move on to the double-time section–I play it with mallets to get some soft "whooshy" cymbal crashes and thumping tom-tom sounds–which we get after three or four tries.
A few days later I'm emailed an MP3 of the finished product, featuring vocals from Daniel plus giggles and vocals from his wife and kids. This most interesting piece of music can best be described as "The Halls Of Montezuma" meets "Waltzing Matilda" meets "O Holy Night" meets the Bugs Bunny theme. With a big ending.
I can't believe how seamless it all sounds. Just lovely and wacky in the best possible way. Hope to do some more soon.
P.B., 6/11/08
Patrick Berkery plays with or has played with The Pernice Brothers, Bigger Lovers, Photon Band, Mazarin, Novenas, Bitter Bitter Weeks, and New Radiant Storm King, among others. He is also a regular contributor to Modern Drummer magazine. Visit Patrick at profile.myspace.com.