Deen Castronovo: The Journey Of A Decade, The Career Of A Lifetime
by Mike Haid
During the heyday of metal music in the '80s, an underground subgenre known as "shred metal" emerged. The shred style focused mainly on high-energy, neo-classical instrumental rock, which required a drummer to be fast, powerful, and technically adept at double bass drumming and odd time signatures.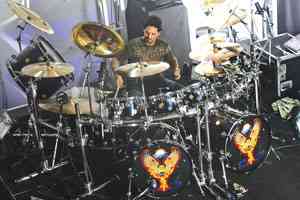 At that time, record producer Mike Varney, who penned the "Spotlight" column in Guitar Player magazine, became a major catalyst in the shred movement. Varney would discover and record many of the guitarists featured in his column. Several of these players went on to become the technical guitar wizards of today, including David T. Chastain, Vinnie Moore, Tony MacAlpine, Paul Gilbert, Bruce Bouillet, Joey Tafolla, Jason Becker, Greg Howe, Richie Kotzen, and Marty Friedman.
One of the first acts that Varney signed to his Shrapnel label was a Portland, Oregon–based metal band called Wild Dogs. This group featured up & coming drumming talent Deen Castronovo. Varney was so impressed with Castronovo's drumming that he hired Deen to play on many Shrapnel releases. Advertisement
The Shrapnel recordings became a training ground for Castronovo, fine-tuning his blazing, syncopated double bass chops and incredible hand speed. He brought a higher level of technical expertise to metal drumming, which continues to inspire new generations of metal monsters to this day.
Castronovo's work on Shrapnel also proved a major springboard for his career, as he went on to work with such big-league artists as Ozzy Osbourne, Paul Rodgers of Bad Company, Bad English (featuring John Waite), Geezer Butler of Black Sabbath, and Frank Zappa sidekick Steve Vai. All of this major-league action paved the way for Castronovo, in 1998, to land the gig with one of the '80s' most successful pop-rock groups, Journey, replacing drumming great Steve Smith–no easy task for any drummer. Ironically, Journey was one of Castronovo's favorite bands from his youth, and Steve Smith was one of his major drumming influences.
Fast-forward ten years. Journey continues to pack concert halls, and Castronovo remains at the helm, still impressive in every way. The group has just released a three-disc set called Revelation, featuring new tunes, remakes of classic Journey material (featuring new lead vocalist Arnel Pineda), and a recent live concert DVD. Advertisement
A particularly impressive talent of Castronovo's is his vocal ability. Deen convincingly sang lead vocals on two tracks from Journey's 2005 release, Generations. And when former lead vocalist Steve Augeri was experiencing problems with his voice on a recent tour, Castronovo took over the singing on several classic Journey tunes. In fact, Deen's vocal range is in the same league as former Journey vocal wiz Steve Perry. Don't believe it? Check out some of the live Journey clips on YouTube. (While you're there, check out clips of Deen's over-the-top drumming from his 1992 video, High Performance Drumming.)
It's immediately clear, upon listening to Castronovo's library of work on Shrapnel, why he's considered so influential by today's metal drummers. Likewise, it's easy to see, when listening to Castronovo in the pop-rock context of Journey, why he's kept the gig for a decade. His discipline for pop drumming and his humble, "team player" attitude speak volumes of why he's still in the driver's seat.
MD recently spoke with the forty-something Castronovo–who still possesses the exuberance of a giddy teenager–about drums, drumming, and his amazing career.
MD: Many of the new generation of metal drummers cite you as a major influence from the work you did on those Shrapnel recordings.
Deen: That humbles me heavily. I know that many of these young guys that I've influenced can dust me! Guys like Chris Adler, Joey Jordison, and Gene Hoglan have taken it to a whole new level.
MD: How did you develop your chops and speed in the early years?
Deen: Growing up, I was very hyperactive. At the time, doctors were prescribing Ritalin for kids with ADHD. My mother wouldn't allow that, so, instead, she got me a drumset. I started listening to Alice Cooper and KISS. In fact, KISS was my Beatles. I loved them. Advertisement
Once I started playing, my mom took me to study with a well-known drum teacher in the area named Mel Brown. I didn't want to read, I just wanted him to show me how to play the stuff and I could learn by watching. I had a couple of other instructors along the way, but I'm mostly self-taught from listening to records. I then saw Rush opening for KISS, and that was it. Neil Peart became my drum god. While the other kids were out playing sports and dating, I stayed home and learned all of the Rush songs. My ears were my teacher.
Then I got a hold of the Journey live LP, Captured, and that changed everything. When I heard Steve Smith's solo on that record, it totally changed my life. That's when I got into fusion like Brand X, UK, and Tony Williams. I couldn't understand what they were doing, but I could pick up snippets of things–especially from Steve Smith, because his approach was more pop-based. Basically, my chops were built by stealing Steve Smith, Neil Peart, and Terry Bozzio blind. [laughs]
MD: Who were the metal drummers of that era that inspired your need for speed?
Deen: Dave Lombardo, Lars Ulrich, and a Canadian drummer named Dan Beeler, of Exciter. Also, "Philthy Animal" Phil Taylor of Motörhead, and Les Binks with Judas Priest. Those were the main guys who inspired my metal chops. Advertisement
MD: What was it like working with Ozzy Osbourne?
Deen: To join Ozzy's band was a dream come true. It was one of the greatest things that ever happened to me. Then, to get fired was the most heartbreaking thing that ever happened. I was not the same person I am now. And if I were Sharon Osbourne, I would have fired me too. I was a messed up, arrogant punk. I was full of myself. Ozzy mentioned in a magazine interview that I was the best drummer he'd heard since John Bonham. It was all going to my head. It taught me a big lesson in humility. Thank God, soon after that, I straightened my life out, and that's when Journey called.