Matt R. Johnson of The Mighty Orq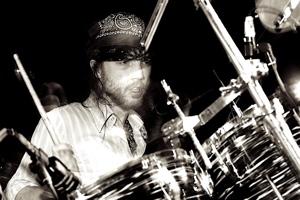 Hey, everyone, this is Matt R. Johnson. I play drums and sing in a band from Houston called The Mighty Orq. I'm happy to relax and just write down my thoughts on drumming and my attempt to make a living in this business.
We have a CD coming out this September called To The Bone, and we worked our tails off getting it all together. We recorded the album in Dover, New Jersey at Showplace Studios. Mr. Ben Elliott (Eric Clapton, Keith Richards) engineered, co-produced, and mixed the album. We're super excited to get this record out for everyone to hear and to begin aggressively touring to promote it. We like to work hard, and that's what it takes.
I've been playing drums since I was twelve years old. I started in school band in the sixth grade and played in all of the available ensembles that I could throughout high school and college. Many hours were spent in the cold upstairs of our farmhouse outside of New Salem, North Dakota (my hometown), practicing on an old '70s Rogers drumset with 14″, 15″, and 18″ toms and a 24″ kick drum. The drums were bigger than me! Advertisement
The first Modern Drummer I bought was the November 1988 issue with Jeff Porcaro on the cover. I absolutely devoured that magazine. I still have it, along with every other issue since (except for a few that I missed when I was very broke–we've all been there, right?). I want to thank Modern Drummer for giving me an outlet at a young age to realize that I wasn't weird for being so into drums. I grew up in the country, thirty miles from the nearest town with a music store (and it wasn't a Guitar Center). I would pore over every issue when it came in the mail in its brown paper sleeve. (Anyone remember those?) To this day, almost twenty years later, I still get great pleasure and knowledge out of reading it every month.
I've been fortunate to work with some terrific artists over the years. Some of those are blues/soul singer Shannon Curfman, Texas troubadour singer/songwriter Hadden Sayers, and Jay Hooks, the Gulf Coast guitar terror. I've been able to tour from Alaska to Key West to New York to San Diego and pretty much everywhere in between in the US, and also across Europe. I've played under stairs in a club on 6th Street in Austin, Texas and on an immense stage in Ottawa, Canada for the Ottawa Blues Festival. I've gotten to meet some wonderful, talented, and hard-working people from all parts of the globe over the years, and I'm truly grateful for all of the relationships that I've gained. All of this is pretty much due to the fact that I really wanted my buzz roll to sound good when I was twelve–weird, huh? That, and a lot of practicing and gigs.
I began teaching in January of 2004 and I'm enjoying it more now than ever. It's like anything else: You get better at it the more you do it. It makes me have to explain why it is that I play something, and that causes me to have to think it through before I open my mouth. I currently maintain a steady roster of twenty-five to thirty-five students a week. I have a recital for my students once a year where they play a song live that they've been working on in lessons for the past few months. I have friends come in and play guitar and bass, and the student gets the feel for playing in a live setting. It's a blast to do. Plus, I believe it gives something back to the parents, who have been paying for lessons all year. Advertisement
As far as drums go, I prefer to play, tinker, collect, and clean vintage drums. However, I love ALL drums, some brands more than others. I've had some killer old and new drums over the years.
I'm currently playing an early '70s Ludwig kit in a black oyster finish. Some people refer to it as "bowling ball" black. These are the drums I used to record our new record with, and I play them live most of the time. The configuration is 22/12/14/16. My snare changes depending on mood and venue, but for metal drums it's either a 1967 Ludwig alloy shell Super 400 or a 1966 Rogers brass Powertone. For a wooden drum, I mainly alternate between a 1964 Slingerland eight-lug and a 1960 Ludwig Jazz Fest. I recently converted the matching 18″ floor tom on my kit into a bass drum, using some Gibraltar products. It's an awesome little drum for small venues. Plus it doesn't take up much room in the van! Cymbals are tricky, as most of you know. For me, nice-sounding crashes are easier to find than ride cymbals. I don't think I'll ever find my "perfect" ride, but I'm going to keep looking. My setup is mainly a combination of Sabian and Zildjian Ks & HHs. I prefer darker-sounding cymbals. I don't use a huge setup by any means–two crashes, hi-hats, and a ride. I'm constantly changing my setup, once again depending on mood and venue.
Sticks, brushes, mallets, etc.–the things that I use to hit stuff–is all Pro-Mark. I'm blessed to be a Pro-Mark endorser, and I believe they're the best sticks on the planet. Plus, they're a Houston company–the factory is less than a mile from my house. Mr. Kevin Radomski, director of artist relations, is a great guy and a killer drummer. Everyone there has really made me feel welcome. I look forward to a long relationship with them while playing, teaching, learning, and using Pro-Mark products.
Thanks so much for reading. I truly appreciate it. When we play a show close by, please feel free to come out and say hi. I would love to talk drums with y'all. You can also drop me a note at matt@mightyorg.com with any questions or comments. Advertisement
THANK YOU!
Matt R. Johnson
PS: No, I never played with Jeff Buckley, although that drummer's name IS Matt Johnson and he IS from Houston. He's awesome. Check him out here: www.myspace.com/drummermattjohnson.
For more on Matt and The Mighty Orq, go to www.mightyorq.com.