Drummer Blog: Vinnie Amico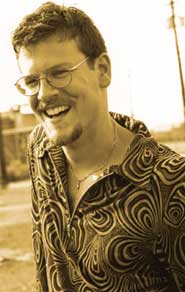 Hey, MD readers, Vinnie Amico from the band moe. here. I'm just getting ready to go on a tour of the South and Southeast, and I'm pretty psyched, seeing that is still freakin' cold up here in Saratoga, New York, where I live. We're on our third run of the winter/spring tour supporting our new album, Sticks And Stones. This was the first moe. album that we wrote and recorded in the studio. Usually we write a bunch of tunes and go on the road and play them for a while, then record them. This time we built a studio in a remote church in the Berkshire Mountains, and we wrote the tunes and recorded them all within a three-week period. We had a great time doing this project, and the results were amazing. We wrote some great tunes, and they sound awesome, thanks to our engineer John Siket. We did most of the tracking live, with minimal editing and less overdubbing than usual. The tunes feel really good.
We've been touring behind the album since the middle of January, with this run taking us through the south. The tunes are really coming together well live. We're stretching some of them out a bit, and others are working well segueing into our other tunes. It's fun finding out what works and what doesn't.
For those of you who don't know, moe. is a jam/rock band that's been around for about eighteen years. I've been in the band for about twelve of those years. We're always on the road, and we do things differently from a lot of bands, in that we don't make an album, then tour, then take time off, then make an album, then tour. We tour, then make an album, then tour, then tour, then tour, then tour, then make an album, and so on. We have about fifteen CDs out now, maybe more. Half of them are live. We have a lot of material, and we play very long shows, usually about three and a half hours. We improvise a lot live, and we play many different styles of music within a show. That's what makes this band so fun for me. I'm constantly changing styles, tempos, and time signatures throughout a performance. And then there are the open sections, where we improvise and see where we can take the music, or where it can take us. It's a great gig. Advertisement
I've been playing drums for twenty-eight years now, and I'm completely self-taught. My father was a bebop trumpet player, so I grew up listening to and being surrounded by jazz. I remember being in jazz clubs and bars at ten years old, just studying the drummer. I got bit by the bug.
So all I did growing up was play sports and drums. At the age of sixteen I gave up sports for strictly playing the drums and partying. That's when I started gigging. By the time I was eighteen and off at college in Buffalo, New York, I was playing gigs about three nights a week. That's where I really learned how to play. I would play a different style of music in a different band every night. I've never done a lot of practicing, I've just always played gigs. To this day, I rarely practice, but I find myself playing almost every day anyway.
I've also recently started teaching. I have a few students that I teach when I am off the road. I also hold workshops at elementary and middle schools on the history of drums and music. The workshops are great. I talk a little about where the drums come from and how the trap set came to be. Then I break out a bunch of djembes, ashikos, congas, bongos, claves, guiros, shakers, and bells, and teach some Afro-Cuban and samba grooves. It's a lot of fun. There's no better feeling than when we lock into one of those grooves and the kids realize that they can make music with their hands. It's just awesome. Advertisement
Thank you, Modern Drummer, for letting me ramble on about my life and my love for drums and music. To all you kids out there that are playing the drums or who want to play the drums–or any instrument, for that matter, keep playing all the time. Play, play, play. And listen, listen, listen. To everything–not just one style of music. Even if you don't necessarily like a particular style, you can always take something and use it. Keep your ears and your mind open. And for God's sake, have fun!
Vinnie Amico proudly plays Yamaha drums, Paiste cymbals, Evans drumheads, and Vic Firth sticks. For more on the band, go to www.moe.org.