Michaela Wiery of Tripping Horse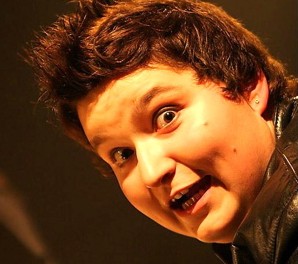 Hi, MD readers. It's Michaela Wiery from the Vienna, Austria—based rock band Tripping Horse, writing this blog for you.
I've been playing drums for five years now, and it's pretty funny how I came to that instrument. I never thought that I might be musical, but one day I got the chance to play drums for fun. The guys at the rehearsal room of [Tripping Horse singer/guitarist Manuel Leal's] the first band asked me to sit behind their drumkit, because their drummer didn't show up for rehearsing. That's when I played for the first time of my life. I did not think about anything in this moment, I just played. The feeling that flowed through my body was stunning. In this moment I realized, "This is my thing," and I still love it.
After I realized the taste of drumming, I started to get interested in other drummers. The most important drummer for me is Dave Grohl of Nirvana and The Foo Fighters. His way of playing drums was fascinating me and I was overwhelmed. His hard, strong, but kind of easy way to play reflects my way of playing the drums. Other drummers influenced me too, but I guess my style of playing is also unique in a way. Most of the time I get crazy while playing, my mind and soul merge together and I really get out of control.
I played in two other bands before Tripping Horse. It helped me to get a better understanding of how I wanted to meet the rest of the band with my special kind of strong, hard drumming. Now I've been playing with Tripping Horse for a year and a half. Being a drummer in this band is great, but sometimes very hard. Everyone has high playing skills, and my contribution to it has to be even a bit better to give the sound that "chilly, kick-ass stoner-rock/metal" flow. Advertisement
Sometimes it's still a little problem when everyone has another idea of the beat that I should play. But somehow we are able to bring our ideas together, and that's "the Tripping Horse sound." Different ideas of four characters mixed up with love and a passion for music.
Our self-titled album will be released worldwide on May 20, and I'm looking forward to it. While listening to the songs, you might get insight into my way of drumming. The time in the studio was fun, but also very hard work and stressful. I tried to play with a lot of energy, and you can hear the straight-punching playing on almost every song. The slower songs are soft but emotionally played. Check it out.
Currently I play a Pearl drumkit consisting of a 22″ bass drum, 10″ and 13″ hanging toms, a 16″ floor tom, and a 13″ snare. I use a Millennium Pro double bass pedal, and I play cymbals from Paiste, including a 16″ Alpha Rock crash, a 16″ Alpha Medium crash, an 18″ PST 3 crash-ride, and 14″ PST 3 hi-hats. I currently use Pro-Mark sticks and Evans skins. Advertisement
I hope I was able to give you some insight about myself and the band Tripping Horse. Check us out, get the album, get crazy, and we'll see you on tour!
Cheers
Michaela
For more on Michaela and Tripping Horse, go to www.trippinghorse.com or
www.myspace.com/trippinghorse.