Josh Dion of Lady Clown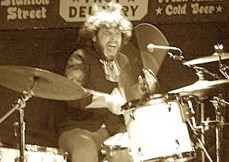 If you've discovered Lady Clown, and their debut record First Lady Clown, you've discovered well-crafted songs, mind-racking yet flowing lyrics, screaming guitars, system-exploding bass noise, sensitive ballads, and a whole new edition to the New York indie scene that hopefully creates another brand of cool. And, oh yeah, you'll hear some decent drumming, I hope.
When Ben Scheuer and Geoff Kraly asked me to come and record "some tunes" for their new project, it did not have a name yet. I also received no mp3s or demos of the tunes and had no real direction as to what this material was going to sound like. Yes, I love that vibe–only when it works! I was familiar with Ben's music (I'd played on his record Escapist Papers), so I knew it would rock, and I knew Geoff had a whole slew of influences, so I was stoked to hear his writing.
I first pulled up to 875 (the studio where we recorded) in Larchmont, New York on a sunny summer day. Life is good. The house where the studio lives is a towering and magnificent sight. I walked in and was welcomed by a beautiful set of drums already set up in the main entrance. The ceilings were high, the sun shined in, and the hanging crystal sent little rainbows dancing across the room. What a cool place to make a record. I met the engineer, the unassuming Peter Denenberg, and continued on to getting comfortable. There were about twelve sessions like this, each one yielding a song or two and never taking more than four takes per song. Advertisement
Each song had a real concept. Ben and Geoff would buy sandwiches, and we would enjoy a lovely lunch while they would explain the lyrics and the stories behind the scene. I am a songwriter, so these approaches made me feel in touch with their music. I also love sandwiches! It was fun to get as deep into the music as I could in a two- or three-hour period. I became aware of the emotion of each song during the sessions, and was consciously thinking about specific things while recording–like not screwing up.
Some of the music demanded a harder, rocking approach, like the tracks "WashMachine" or "Ranana." This was fun! Loud drums and bashing cymbals is a favorite pastime of mine. Some of the music was subtler and needed a straight, less washy groove to let the lyrics breathe, a la "Calling All Cars" or "Handled With Care." Often times the tunes would have interesting odd bars and phrases, which was fun to learn on the fly. It reminded me of Wilco, Nine Inch Nails, and The Beatles. It was an extremely interesting experience.
My favorite kind of music is that which lives on the edge of inside and outside, popular and avant-garde. I was able to use all my influences to really create some different things. Some tunes were improvisations, such as "That Is Wanting," where we really vibe out for a while. Some were recorded with a click, because some of the concepts involved multiple sections that could be put together at a later time. Then there were takes where we recorded the old-fashioned way with no click, just three musicians in a room. Advertisement
I played lots of big drums in strange places. Often I would walk in for the session and the drumset would be in a different place from the last time. Ben would then explain that there were strategically placed room mics all over the house. On one session there was a mic in the toilet (my personal fave). I even played a box of rocks on one of the songs, "My Hand Sent It Dropping"! I played everything from tables to piano to enormous drumsets where we were trying to break the sound barrier with a single snare drum smack. Yes, this is why we do this!
I would always say, "These drums sound amazing!" as I danced around the control room area while listening to takes. Each song seemed like it had its own little twist on the drum sound. Some sounds were so big that they almost seemed transparent. Ben had this washy and beautiful 22″ ride for the more rocking tunes. I love to walk into a session and tune up the drums and have it be easy. Peter Denenberg is a wizard behind the board. He never talked much about what he had done, and once I got to know him, I was not surprised at his amazing credentials. Working with him was like working with another musician. He thought artistically and totally tapped into the creative nature of the music.
I felt like I really grew as a player during this project. I was challenged to find new things within myself to bring to the music. I am influenced and excited about the songwriting of Lady Clown. I also have my own band, The Josh Dion Band, and we just finished our newest studio release, Anthems For the Long Distance. I know what it takes to put together a well-threaded album, and I have so much respect for Ben and Geoff as people and as musicians. They put together a great package, I wish them the best in their endeavors–and I can't wait for the next chunk of sessions. I encourage you to check it out, in the studio and live too! See you there. Advertisement
Josh
For more on Josh Dion and Lady Clown, go to www.ladyclown.com or www.myspace.com/joshdionband.