Dom Famularo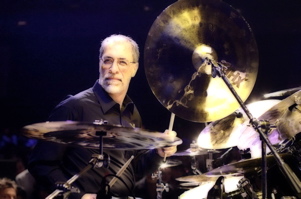 Hello, MD readers.
2007 was another jammed year of traveling. Fifteen countries, and many of them more than once! Here are some highlights:
The Ultimate Drummers Weekend in Australia was a great event. There are some DVDs to check out, with so many top players, and I am honored to be on some of these. I watch them to steal ideas from other players! Virgil, Steve Smith, Weckl–all the drummers on the DVDs, you name them and I learn from them.
Argentina clinic tour with Will Calhoun: What a wonderful, dedicated player Will is. We hit six cities in six days! There are some excellent drummers there who opened for us. More learning.
The Cape Breton Drum Festival in Canada was another great event. Two days of non-stop drumming with Alan White, Bill Bruford, Bill Cobham, and Denny Seiwell, just to name a few. Again, I listen on the side of the stage and get inspired.
The Mapex Drummer Of Tomorrow contest in Spain, England, France, Italy, and Germany: I heard some fantastic young drummers that blew me away. They are getting younger and better. The finals will be in Germany in March. Two winners from each country will play one tune with a top band and then solo. I get to see the up & coming drummers who inspired all the judges and me. Advertisement
Traveling the Unites States was exciting for me in 2007 because I played in about twenty states. I met so many strong drummers who opened for me, and I gave many master classes. I enjoy the lessons, as I can pass on the techniques and ideas of my great teachers.
Finally, I was able to get two books out on Alfred publications, and they were voted the two top books at NAMM: 8th Note Rock And Beyond with Glenn Ceglia and The Weaker Side with Stephane Chamberland. Check them out, along with my book It's Your Move, also on Alfred. Steal from the books and build your own expression–then share it! If you see me in my travels, stop by and say hello. Onward and upward!
Dom
For more on Dom Famularo, go to www.domfamularo.com.