Torry Castellano: The Grip Of Death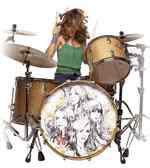 Although Donnas drummer Torry Castellano still encourages the idea of being a self-taught musician, she's quick to admit that she had to learn the hard way that improper technique can cause serious problems. A few years ago after a bout with tendinitis rendered Torry out of commission for several months. After touring for over a year on her pop-punk band's 2002 release, Spend The Night, Castellano's problems became so severe that she had to undergo surgery and physical rehabilitation.
"When I got to physical therapy, they called it 'the grip of death,'" Torry recalls. "They were like, 'Oh no, you do that?' But it all ended up being really good. I learned a different technique, and I think I'm a better drummer because of it. It's all about letting the stick do the work. That way you're not going crazy, holding the stick so tightly that you're hurting yourself."
Besides applying the new technique, Torry began doing warm-up exercises and reconfigured her four-piece Pearl kit. Since then she's successfully (read: pain-free) recorded and toured behind two more Donnas albums, including 2004's Gold Medal and their latest, the arena rock–flavored Bitchin'.
Castellano credits producer Jay Ruston (Meatloaf, Polyphonic Spree) for helping to shape her performance on this latest recording. "He definitely encouraged that four-on-the-floor type beat," she says, "which was a really good direction because I love that beat. But I was asking, 'Should I really put it in more than one song?' He was like, 'It sounds great.' And when we play those songs live, the rhythm really gets into people."
Waleed Rashidi