Steven Spence of Black Tide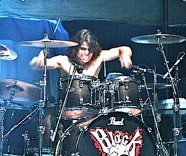 Hey, everyone, my name is Steven Spence, and I'm the drummer in Black Tide. We're an old-school metal band based out of Miami, Florida, and we just finished up an eight-week tour with A7X. Prior to that, we were fortunate enough to share the stage with the prince of darkness himself, as the opening band on Ozzfest's main stage. The only thing I don't like about being on the road is that I rarely ever get to practice. We play our set every night, I pack up my drums, and that's it. On the other hand, at home I get to annoy my neighbors for hours every day.
I am absolutely fascinated with every aspect of drumming and the endless possibilities that can be done with just a couple of drums. I love being in the studio, and with each new song we come up with, I try to become more and more creative with my drums–that is, without losing the groove of course.
I'm amazed at how many great drummers there are today. There have been countless times where I've walked into random drum shops across the US just to buy some sticks, and walked out astonished by the sheer talent of the shop's local artists. Still, I don't look at today's talent as competition, but as inspiration. I can practice for countless hours without ever getting bored, and when I'm "in the zone" I totally lose track of time. Advertisement
Black Tide is perfect for me. I love all of our songs and never get tired of playing them. You can listen to some of our music online at www.myspace.com/blacktide. Be sure to check out our debut album, Light From Above. It will be released in February of '08.