Anthony Biuso Blog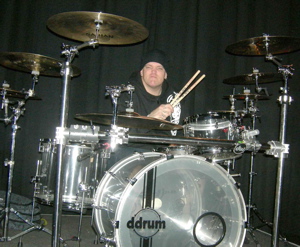 Hey, MD, my name is Anthony Biuso from (hed) p.e. My friends, oddly enough, call me Tiny Bubz. If you've found your way to my blog, then you must be like me: I live and breathe drums and drumming!
I've been living in Los Angeles for eighteen years. I'm originally from New York, where I studied percussion and played in every band there was in school–dixieland, jazz trio, jazz band, and marching band. In 1988, I traveled to Australia, New Zealand, Tahiti, Cook Islands, Tasmania, Bora Bora, and Hawaii with my high school orchestra and was hooked on touring from the start.
I attended M.I. in 1989 and soon found myself traveling the world with the rock band Rude Awakening. I have since played with Duff and Slash from G N' R, Billy Sheehan, MC Wren (NWA), The Dickies, Rhino Bucket, Gina Schock, Lindsey Troy, Laura Dawn, Billy Idol, T.S.O.L., and of course The Haptones at the Cat Club here in Hollywood CA. My good friend and confidant, Slim Jim Phantom, runs the joint. Advertisement
This is the first of hopefully many blogs from me as I travel the world playing drums for (hed) p.e.–Hed Planet Earth, as some would say. We are a hardcore, rock, funk, rap, ska core band! How's that for a description? Ha! The band has been around since the late '90s, when it signed to Jive Records. (Hed) p.e. enjoyed a serious run there for a while opening for Metallica, SlipKnot, Kid Rock, Mötley Crüe, System Of A Down, and Papa Roach. Now in our tenth year, we are once again enjoying a resurgence on the independent label Suburban Noize Records. We're traveling and playing more than ever! So glad I could be along for the ride. I've played 145 shows with the band since May 2007! We criss-crossed the U.S. three times and hit Europe as well. We're about to embark on the 2008 Heavy Hitters Tour with Kingspade, Big B, and Dirtball as our openers. Then it's off to Australia in March. The band was also #10 on Headbangers Ball's most requested of 2007, Beating out Megadeth and Shadows Fall.
My friends are all over the world as well. Ray Luzier just landed the killer Korn seat, and John Tempesta is rocking out with The Cult.
I can't thank the guys over at ddrum enough for my new Dominion Ash Series kit. My soundman, JJ, loves it. It is without a doubt the sweetest kit I have played. I'm using a 13″ rack, 14″ and 16″ floors (the 14 is on left), and a killer 20×24 bass drum. I also employ a few smaller drums to my left for the reggae and ska-based material. I have the Marc Quinones copper timbale snare and a DW mini-timbale. I use two Frankenstein snares. My main is hand-hammered brass, 4×14. My secondary snare on the left is the same size, only in copper. I love these bad boys! I'm endorsing Vic Firth sticks and Sabian cymbals. The people at Sabian are such great guys and girls–if you have a sound or an idea of a sound, they can make you a cymbal that sounds like it! I'm using a combination of AAXs and AAs in my setup. I use a 10″ and 12″ AAX splashes, 13″ Fusion hats, a 14″ AAX mini-Chinese, a 17″ AAXplosion crash, an 18″ AAX Chinese, a 19″ AA crash, a 19″ AAXxplosion crash, a 20″ AAX metal crash, a 20″ Stage crash, and a 21″ AA Rock ride. Smaller clubs get the smaller cymbals. The arenas and festivals get the 20s all around.
I put 125 shows on one crash/ride, which gets a workout on my right side.
I'm rehearsing now as I write, and we're back on the road again soon. We have about twenty-five shows in the next month before Australia. Please check out www.myspace.com/hedpe for dates and details. Advertisement
Thanks so much for reading!
Anthony "Tiny" Biuso
For more on Tiny Biuso and (hed) p.e., go to www.myspace.com/tinybubz or www.suburbannoizerecords.com. And check out Tiny's endorsing companies at www.sabian.com, www.ddrum.com, www.vicfirth.com.