Russell Lee of Deepfield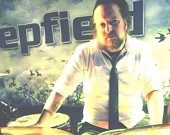 What's up, MD kids? This is Russell Lee. I'm the drummer for the band Deepfield. We are from South Carolina. We got our start playing with bands such as Puddle Of Mudd (I'm watching them soundcheck now as I write this!), Chevelle, Shinedown, and various other bands in the rock market. From there we got noticed, signed a deal with In De Goot Recordings, and put out our first record, Archetypes And Repetitions.
I grew up listening to a lot of metal. My older brother was huge influence on what I listened too. So that's why I started learning to play drums to Master Of Puppets and Live After Death at the ripe old age of twelve. Pretty much from then on up to my early twenties it was straight metal all the time. Took some lessons from Derek Roddy, learned blast beats, opened for Nile on numerous occasions, and then slowly fell into more of a rock genre as I matured. A few years ago I decided to tear down my entire kit, buy the Led Zeppelin catalog, and start from scratch. Now I've become very focused on groove, thanks to our producer, Paul Ebersold. It's worked wonders for my playing.
I love playing simple rock. Our guitarists are so riff-oriented, and that makes it easy to be in the pocket at all times. And, at a moment of inspiration, those heavy guitar riffs make it easy to start playing off with some massive fills. It's all about the rock, having a good time, playing hard, and sweating it out for what you love! Advertisement
Keep in mind, when you're playing live, the crowd can really feed off the drummer alone. It's a hard job. Stay healthy, eat well, and most importantly, SLEEP! If you don't sleep, the crowd will.
When it comes to the studio, I focus less on the set of songs and more on the individual track–playing all the right rhythms and fills. I try to make the song the best I possibly can and do my part as a member of the group.
I use Vic Firth 7A sticks in the studio. A trick I learned is that less stick leaves more room for the drum. It allows the drum to sing more without being weighed down with all the wood. On the road I use the Vic Firth 8D. It's a beefier, longer version of the 7A. For cymbals I use Sabian HHX, and my kit is a ddrum Diode Acrylic series, and I love every bit of it! Advertisement
Keep up the rock! And check us out on tour or at your nearest record store.
For more on Russell Lee, go to www.myspace.com/Deepfield. Photo by Zach Martin.