Jerome Deupree New England International Drum Expo Blog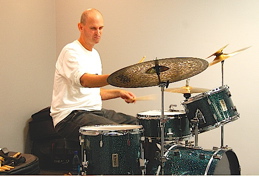 Hey, folks! I want to tell you about the New England International Drum Expo that was held in Manchester, New Hampshire a couple weekends ago. I was very honored to do a clinic on Sunday. The roster of players was formidable to say the least. Steve Smith, Kenwood Dennard, Cindy Blackman, Bob Moses, Dave DiCenso, and Dave Mattacks were just some of those who appeared. The show was put on by Cherie Willoughby and Repercussions, and was hopefully only the first of many to come.
I arrived on Saturday morning just before the doors opened. After locating the right hall (one of the others was full of snakes!) I loaded in and had a look around. I think the turnout was pretty good for a first show. There were booths from stores, manufacturers, collectors, and schools as well as a consignment space. I had a quick look around and said hi to a bunch of friends, but soon had to retreat to my hotel room for some peace and quiet. I love drums as much as anyone, but the display room was quite noisy and I needed to get some rest.
I did manage to catch a bit of some of the other clinicians. I hadn't seen Bob Moses in some time, and it was great to hear him play again. Kenwood was his usual stunning self, playing drums and keyboards at the same time as well as speaking and singing on top of it. Later that night Steve Smith and Pete Lockett did solo spots and played together. It was my first chance to see Pete, and I wasn't disappointed. Steve, of course, was amazing as always. Advertisement
Sunday I woke up early, as I wanted to warm up. I'd been able to set up the drums the night before so I had plenty of time to play and get ready.  I was using my new Tempus drums: 12×20 bass drum, 8×12 rack tom, 12×14 floor tom, and a 6×14 snare. The drums are carbon fiber with a special blue/green sparkle finish. The cymbals were a 22″ Paiste Dark Energy MK 2 ride, a Sabian 18″ Legacy crash, an 8″ Paiste Prototype splash, and 14″ Paiste hats–a Dark Energy top over a Light Dark bottom.
Even though I had the whole kit, my subject was focusing on kick/snare/hat, so I put the rest off to the side for a bit. The room was full, and I was happy to be there. Despite having done this clinic before, I got a little off track from time to time, hopefully not too far, though. I had folks come up to play, and that's always fun. The last guy to volunteer was the cameraman. I think he turned the camera off before he played, though. I wanted to thank him afterward but didn't get the chance. At the very end I put the kit back together and played for a bit. It's always funny how an hour can go by so fast. All in all, I think it went well, and a few folks told me they liked it.
After my slot I got to see Dave Mattacks and Andrew Barr play. Dave spoke about tuning and recording, and Andrew played some very nice variations on a 6/8 theme, among other things. It was my first time seeing him play as well, and I really enjoyed it. Throughout the weekend I ran into friends and folks from online forums that I'm on. It's always nice to connect with other drummers and talk shop. Attendance seemed to be pretty good, but given the amount of space, it was kind of hard to tell. Cherie and her staff did a great job of running things smoothly. Advertisement
I had to miss Cindy Blackman, who closed the show, as I had a gig to get to. I'm sure she was great on that big yellow Gretsch set. It must have been a wonderful finale for the weekend. My thanks and congrats to Cherie for putting on this show. I hope it'll all happen again next year. Maybe I'll see you there?