The Evolution of Jimmy Chamberlin: Still Smashing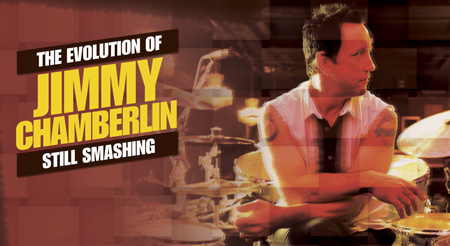 by Ken Micallef
As a self confessed "elder statesman of music," and one of the most influential drummers of the past fifteen years, Jimmy Chamberlin has a thing or two to say about the state of the instrument. He doesn't believe in Pro Tools, for instance, or click tracks, or giving over control of his drum sound to engineers or producers. Chamberlin plays for the music, not the corporate recording label, not the radio, not the manufacturers.
Jimmy Chamberlin is honest to a fault, and his drumming remains as bold, bad, and beautiful as ever. Ask Chamberlin a question, and you will get an answer:
MD: Do you muffle your drums in the studio?
Jimmy: I don't muffle anything. I am not into muffling drums. The '70s are over, man!
MD: How do engineers feel about that?
Jimmy: I don't care. [laughs] I don't ask anybody how they feel about my drums. I just don't. It isn't my job to mike the things, ya know?
If Chamberlin's boldness leads you to believe that he plays only for himself, you're wrong. When called upon to reunite with Smashing Pumpkins head honcho Billy Corgan, Chamberlin laid all his cards on the table. The results show in every second of the hard-hitting and controversial songs on Zeitgeist, the band's first album of new material in seven years.
"The mindset of the record was to put our best foot forward and not to get too artsy," Chamberlin explains. "We wanted to try to create a body of work that was concentrated enough to bring back a fan base and invigorate a new fan base. We kept it pretty close to the chest, and we didn't branch out too deep into art zone while we were writing the record." Advertisement
Beginning with 1992's Gish, Smashing Pumpkins became one of the most successful bands of the alt-rock era. As apt to play psychedelic soft rock like "Mayonaise" (from Siamese Dream) or "Bullet With Butterfly Wings" (Mellon Collie And The Infinite Sadness) as create an alternative conflagration of epic proportions, the band, along with Nirvana, was a trademark brand of the 1990s scene. Fast forward to 2007, and the reunited Pumpkins (including Jeff Schroeder [guitar], Ginger Reyes [bass], and Lisa Harriton [keyboards]) return not as a nostalgia act, but as a vengeful, neo metal band blazing the heaviest, hardest songs of their career.
Chamberlin's flam/pang assault kicks off Zeitgeist on the ominous "Doomsday Clock," followed by the Hendrix inspired "7 Shades Of Black." Jimmy lays down a black-hearted beat for "Bleeding The Orchid," catapults a marching snare cadence coupled with shuffle madness for "Tarantula," creates a seamless rudimental assault on "Starz," and orchestrates a polyrhythmic full-set pattern for the distorted riff-fest "United States."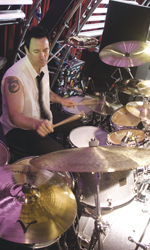 Fans of the Jimmy Chamberlin Complex may disagree, but this is Chamberlin's greatest drumming ever put to CD. Chamberlin's passion, creativity, energy, and resourcefulness fire every track, every solo, and cement his position as one of rock's most important musicians. Advertisement
In 2005, MD readers learned about the methods employed for Chamberlin's solo album debut, The Jimmy Chamberlin Complex. Now back with the revitalized Smashing Pumpkins, the drummer speaks ever more directly as to what it takes to play "bombastic" drums in the year 1992, the year 2007, and beyond. Jimmy Chamberlin exemplifies confidence, concentration, dedication, persistence, and reinvention.
"We are not going about this to be a heritage act," Chamberlin explains regarding his band's very successful reunion. (Zeitgeist debuted at #1 in multiple countries.) "We are going out to reinvigorate the brand name and give ourselves a musical destiny that is going to span the next twenty years."
MD: As some drummers get older, they tend to adopt a less-is-more attitude, as though that's a more mature way to approach the groove. But the new Smashing Pumpkins record features some of your most aggressive drumming ever; it has that youthful excitement. Advertisement
Jimmy:That's the point. The thing that scared me most about going into this record was exactly that, that complacency that comes with being an elder statesman, if you will, of music. I never got that. I'm a huge fan of Elvin Jones, Buddy Rich, and Tony Williams. I was listening to Elvin's Jazz Machine just the other day, recorded when he was sixty-nine, and he's just killing on it. That's where I want to go.
MD: Is this some of your most aggressive Pumpkins drumming ever?
Jimmy: I think the aggressiveness comes from the note choices and also the confidence. Aggression needs confidence behind it, and as a young drummer there's a lot of unknown out there. Going into this record, I really knew what I was going to get from that type of overplaying. I really enjoy pushing the boundaries.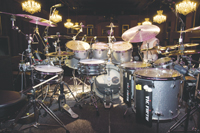 MD: You also retain a similar drum sound to The Jimmy Chamberlin Complex record: the open snare and toms. It's not a safe, tidy, or typical rock drum sound.
Jimmy: What is the point in doing that? The world is ready for something with some balls behind it. The days of safe, Pro Tooled music are over. I just can't get emotionally connected to something that was recorded to a click track in a computer. I'm too much of a jazz fan and a fan of music in general to get behind anything like that. It just bugs me. Advertisement
Seeing people respond to this record has been really interesting. We recorded everything live to tape–and we didn't use click tracks, and we didn't use Pro Tools. We didn't do any digital editing at all either, so the drum takes you hear are just me going for it. People really respond to that. They want to hear human beings making music, not a Macintosh G5.