Carl Allen: Embracing the Journey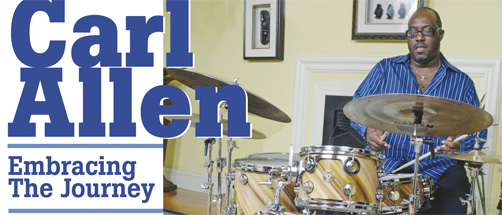 story by Michael Dawson
Soon after moving to the New York area in the early '80s, Carl Allen landed a dream gig with post bop trumpeter Freddie Hubbard. That gig established the then nineteen-year-old drummer as a leading light among a select group of eager young musicians who were looking to breath new life into the waning art of hard-swinging acoustic jazz.
Since then, Allen has worked regularly as a sideman for jazz legends, like saxophonists Jackie McLean and Dewey Redman, and trumpeters Art Farmer and Woody Shaw. He's also put out several records of his own, and he's appeared on numerous discs with contemporary artists like saxophonist Donald Harrison, trumpeter Terence Blanchard, and pianist Benny Green. He's also racked up considerable repute as a producer for his and saxophonist Vincent Herring's company, Big Apple Productions.
In addition to being a high-profile performer/producer, Allen is one of the foremost educators in jazz, continuing to share his unique musical philosophies in dozens of clinics and masterclasses each year. Carl has also served on the faculty at the esteemed Juilliard Institute For Jazz Studies in New York City since its inception in 2001. Given this dedication to passing jazz wisdom on to new generations of drummers, we took advantage of our time with Carl by digging into the concepts that this modern jazz master explores with his private students. Advertisement
A one-on-one lesson with Carl Allen goes much deeper than polyrhythms and paradiddles. In fact, over the course of our two-hour masterclass at his Brooklyn apartment (in front of some beautiful new DW drums), not once did he talk about the drums in strictly technical terms. Instead, each question either inspired the drummer to hop behind his kit to demonstrate some creative ways to address particular concepts, or it evoked some priceless words of wisdom that he'd learned while sitting at the foot of some of the greatest jazz drummers of all time. You see, for Carl–like it was for Art Blakey, Tony Williams, Elvin Jones, Billy Higgins, and many others before him–everything he does on the instrument has just one purpose: to serve the music.
In preparation for our "lesson," we spent some time studying Allen's newest record, Get Ready, which he co-led with longtime friend, bassist Rodney Whitaker. And while there's a ton of great drumming throughout this disc, like the perfectly constructed two-chorus solo on "Summer (The Sweet Goodby)" and the loose polyrhythmic explorations in "Preference Of Conviction," we couldn't help but notice that every track has an overriding vibe that simply feels good. So we'll begin our virtual masterclass there….
MD: Every track on the new record has a strong sense of groove, even when you're stretching the phrasing. How can a young drummer develop their feel?
Carl: Young players have to understand the importance of being able to make the audience want to dance, which comes from having a strong sense of foundation. It's cool if you can play the hippest Elvin lick. But the majority of your audience isn't made up of musicians. They don't sit there and think, Oh, that lick's from that record. But they will recognize if it felt good, or if it didn't. Advertisement
MD: How can a drummer develop that?
Carl: You have to understand how to build your sound. For me, that starts with the ride cymbal. I often ask students, "Where is your focal point? What are you building your sound around"? Many of them have never thought about it. But when you listen to great drummers like Bernard Purdie, Elvin Jones, Jimmy Cobb, Steve Gadd, or whomever, you can hear where their focal point is, be it the ride cymbal, the hi-hat, or whatever the case might be.
So once you have a strong ride cymbal, you work on developing the relationships between the limbs. Check out how your hi-hat foot is communicating with the right foot, or how the left hand balances with what's happening in the right hand.
Balance is a big issue for me. If the focal point is the ride cymbal, then you have to look at how the other limbs are balanced with that. That's one thing that helps you build your sound, which helps to establish a feel, which helps give you a signature, which makes you identifiable. Advertisement
MD: What's a way to practice building sound from the ride up?
Carl: You need to be able to play the ride cymbal while singing a melody. Start by making the basic jazz ride pattern feel comfortable. Then add the hi-hat on 2 and 4. While you're doing that, listen to the dynamic as well as the rhythmic balance between the limbs. Then add the bass drum softly on all four beats, so that it's felt more than heard.
Once those three things are comfortable, sing a melody. The second time around, add some complement with the left hand while you sing. By doing this, you become conscious of how everything relates to the melody. As a result, you'll find yourself playing less with the left hand.
I often use my left hand to dress up what's happening with the ride. Even when I'm playing looser and more across the barline, my focus remains on the ride cymbal. And I'm making sure that the other limbs are working with the ride. Advertisement
One of the problems that a lot of drummers have is that they get in the way. There's so much stuff going on all the time. Don't get me wrong, I'm down for breaking up the time. But you have to find a way to make it relevant to what's going on. Your job is either to play the melody or to support the melody. If you're not doing one of those two things, you're getting in the way.