Rob Bourdon: Midnight Confessions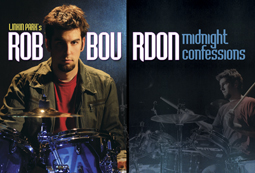 by Ken Micallef
Back in 1999, Rob Bourdon was just another drummer in LA, playing with his band Linkin Park, doing the rounds of clubs, and working on his loops, beats, and pieces. Fast forward eight years: Bourdon is now one of the most successful drummers in the world, fans clamor for a glimpse of his handsome visage, and his rap-rock records with Linkin Park have sold over forty million units. And it seems that he's just getting warmed up. How has success changed the mild-mannered Rob Bourdon?
"I am definitely grateful to be able to play music as a career and to support myself playing drums," he says from his LA home. "I feel a great sense of accomplishment in being able to do that, because it was a life's dream for me to be able to focus on writing music and playing drums and not have to worry about anything else. It's through the success of our records that I've been able to really focus on that as my main purpose in life."
For their new studio album, Minutes To Midnight, Linkin Park went back to basics. Enlisting producer Rick Rubin (U2, Red Hot Chili Peppers, Run DMC), the band pared back the dependence on loops and machines that had dominated their previous albums Hybrid Theory and Meteora and generally attempted to groove like they'd never grooved before. The result is a more natural-sounding record that at times recalls U2 and Pink Floyd. The Rob Bourdon of Minutes To Midnight sounds more natural as well, his reliance on computer editing software taking a back seat to grooves that flow with more visceral intent, and less focus on syncing with the loops of Linkin Park's DJ and mastermind, Mike Shinoda. Advertisement
An adherent of using Pro Tools as a way to outline beats in the songwriting process, Bourdon is also inspired by the work of drummers like Carter Beauford and Army Of Anyone's Ray Luzier. While Bourdon uses technology as impetus in building the perfect beat, he's also all about a serious practice regimen involving single-stroke rolls, paradiddles, and various coordination exercises. His perseverance pays off on new songs like "The Little Things Give You Away," where he creates one of his most complex parts to date, the subtle funk of "What I've Done," as well as the martial allusions of "Hands Held High."
A rap-rocker reborn? Not quite. But by embracing a more traditional songwriting approach, coupled with a feverish practice routine, Bourdon proves there is life after superstardom, globetrotting tours, and corporate rock domination. Minutes To Midnight chronicles the growth and evolution of Linkin Park…and Rob Bourdon.
MD: Linkin Park has sold over forty million albums. What's the craziest thing you've done with your cash?
Rob: The craziest thing? To be honest, I haven't done anything that crazy. I bought a house, which allowed me to set up a home studio. I actually just finished it. In the past I always lived in an apartment. I would have to drive to my drum room to practice. So it's great now that I have a home studio so I can go downstairs, walk into my soundproof room, and practice drums right at home. Advertisement
MD: You also have a Pro Tools rig there?
Rob: I have a full Pro Tools setup in there and all my Gretsch drums miked up, so whenever I feel like writing or if I'm inspired and want to record an idea, I can turn everything on and start working.
MD: Along with the success, there must be a lot of pressure in being part of such a huge act. Is there a downside?
Rob: There's definitely pressure to write creative parts and really nail stuff live. There are a lot of people watching us and looking to see what we do next and what type of music we'll play. But that pressure actually ends up being positive.
In the beginning there was the pressure of wanting to perform well so we could gain fans and eventually impress a label to sign us. And then after we were signed, it was more about continuing to grow musically and become better performers. Now it's more about the pressure that comes with success. As long as we take it in a positive way and use the pressure to better ourselves as musicians and performers, then it will all work out for the best. Advertisement
MD: The drums are rawer-sounding in general on Minutes To Midnight. Does that mean less programming, less triggering?
Rob: In the past, we usually got the drum sounds down in one day. We would just set up and go through drum sounds, and when we found one we liked, we would stick with it and that would be the drum sound for the entire record. We then would do a lot of programming on top of the drumming so that it would have a consistent sound. It sounded more produced.
We really spent a lot of time on the drums on this record. There were eight to ten days of going through different snare drums. All of the extra time and focus ended up giving a lot more life to the drums. This record definitely sounds more live.
MD: Of the tracks I heard, there seemed to be more room sound in each. Were the drums actually recorded in a big room, or are those digital reverb effects?
Rob: We recorded at the Laurel Canyon studio where Rick Rubin works a lot. That's where The Red Hot Chili Peppers recorded Stadium Arcadium and Blood Sugar Sex Magik. Bugsy Siegel used to live there, and the house had a tunnel where Harry Houdini would cross through in the middle of the night. All of the gear had to be rented and brought in, because it's not a professional studio. We tracked the drums in what used to be the main living room, which is a big room. We also put some room mics in the entryway; that really gave it a big room sound. Advertisement