Brian Young of Founatins Of Wayne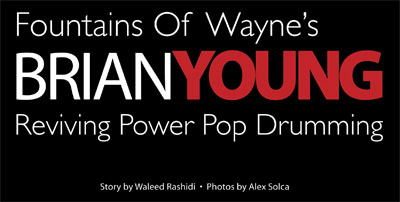 by Waleed Rashidi
If at any point in 2003 you were situated near an FM radio or MTV-equipped television, chances are you heard Brian Young's drumming. That's because the mega-hit song "Stacy's Mom," from power-pop rockers Fountains Of Wayne's third album, Welcome Interstate Managers, grasped the airwaves with infectious hooks and sing-along melodies that were seemingly unavoidable.
Though it was that particular track, with its simple rock-based rhythms, that helped solidify Young's drumming on the musical map, spinning Fountains Of Wayne's catalog and that of the other bands the drummer has been a part of reveals an incredibly grooving performer with a wide array of cool ideas. Credit Young's significant drumming upbringing, as well as his musical influences, which include a host of '70s radio hit-makers like Blondie's Clem Burke, Cheap Trick's Bun E. Carlos, Fleetwood Mac's Mick Fleetwood, and studio great Russ Kunkel.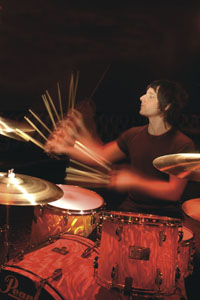 Three decades since those drummers broke radio ground, Young–along with bandmates/songwriters Adam Schlesinger and Chris Collingwood–is steadily forging ahead in reviving power pop on the airwaves, over ten years after Fountains Of Wayne opened for business. The band's latest installment, Traffic And Weather, has Young following his own observations. "To be honest," he admits, "I'm much more into simplicity and playing what's good for the song." Advertisement
Whether he's using his Vic Firth Rutes on songs like "I-95," giving his kit a rumbling, Ringo Starr–inspired feel, or the fat, dead sounds of "'92 Subaru," Young maintains a steady fifth-gear cruise that his Fountains Of Wayne mates can consistently depend on.
Young is originally from Pittsburgh, though he spent some of his upbringing in Arizona and in New Jersey, leading his bandmates to tease him about being from everywhere. "We're in Topeka, Kansas," Young says, "and they're like, 'Hey, Brian's from here!'" The drummer later took root on the West Coast, including Seattle–where he was a member of seminal indie-rock act The Posies for two albums. Young eventually ended up in Los Angeles, his current home. "When you're growing up," he says, "you think it's this unattainable thing to actually be doing this crazy stuff for a living. When it happens, it's fantastic."
MD: What was your transition from The Posies into Fountains Of Wayne like?
Brian:It was a bit different because in The Posies I got to play way too much; it was a little bit less about the honesty of the song itself and a little bit more about creating a sonic picture, i.e., just rocking out. But Fountains Of Wayne worked out pretty well because we all speak the same language. Advertisement
MD: How did Fountains Of Wayne discover you?
Brian: I had a friend who worked at their label and I asked her if she knew of anything going on, because at that point The Posies were kind of slowing down. She turned me on to Fountains Of Wayne, and it's funny, because when I auditioned for them I sat down and played the beat to "Swingtown," the Steve Miller tune, and they all looked back, nodded their heads, and we jammed.
MD: What year was that?
Brian: That must've been around '96. It's been a long time, but we did take a couple of years off in there. When we recorded our last album, we didn't even have a record deal. I remember Adam put up the money to do the recording, we converged in a studio in upstate New York, and we didn't know what to expect. We all showed up with basically nothing. I had a stick bag, and the engineer mentioned to me, "You know, it would've been a lot cooler if you showed up with nothing at all." We were kind of going through the studio basement, looking for gear and taping stands together. It was funny.
MD: And look what came out of that session–quite impressive!
Brian: Yeah, it just goes to show that you never know.
MD: What was it like recording Traffic And Weather?
Brian: We recorded it over the last year or so. We usually do things in little chunks, where we'll converge on a studio somewhere and get three or four tunes down. It's very much a traditional type of pop band setting, where there are two main writers in the group, and they'll come in with an acoustic guitar and we'll just cut the song right there. So there's really no rehearsing. We've been playing together for so long, it usually ends up being early takes. Advertisement
MD: How much freedom do you have to write your parts?
Brian: I usually find that guys who write like this have a pretty good idea of a beat or groove. But once you play around with it a little bit, you work out little patterns. I certainly contribute to arrangements, patterns, feels, and stuff like that. But basically, every producer I've worked for has some sort of a groove in mind.
The cool thing about Fountains Of Wayne is that we do a whole lot of different stylistic stuff. We'll do a country brushes thing. Or, on the song "Yolanda Hayes," there's a big swing bridge with horns. It's fun to set up that stuff.
MD: Have you always maintained such a strong musical connection with your bandmates?
Brian: Yeah, we basically grew up with a lot of the same album collections. Plus I came out of a pop band, The Posies, and even though that was a bit different for a pop band, we're basically all pulling from the same bags of tricks. Advertisement