Tommy Lee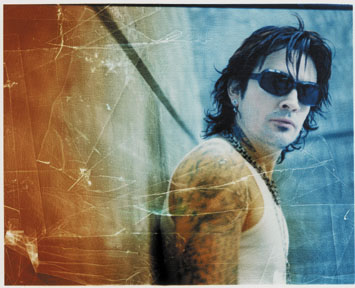 "Never A Dull Moment"
by Billy Amendola
Tommy Lee is in a great mood, and he has every reason to be. His new CD, appropriately titled Never A Dull Moment, has just been released, and it's off the hook! It's filled with great songs, awesome guitar and vocals, and killer drum tracks, all co-produced, written, and played by Tommy, with some help from friends like Chino from Deftones and Brandon and Mikey from Incubus. We recently caught up with Tommy while preparing for his tour. Tommy will be playing some drums, but for the most part he'll be up front singing and playing guitar with a brand- new band that will include Will Hunt on drums.
MD: How did you find Will?
Tommy: I auditioned a lot of drummers, and Will came in and just crushed. I realized this guy was perfect because essentially he's playing what I played on the record. And he plays just like me. Will's pretty funny. Sometimes at rehearsal he'll bust out a few drum fills from classic Crue songs. It's like beat-for-beat. And he's like [in a put-on Southern accent] "Yeah, I stole that one." The drumkit DW made for him for the tour is like the General Le–orange with the zero one, like the car from the Dukes Of Hazard TV show.
MD: Any electronic drums?
Tommy: Yeah, he'll be playing a large electronic kit, with two Ddrum heads, and six pads, and a kick drum. What's really cool about this band is that live, we really sound like the record. We went through every sound on the record and duplicated it. It was important to me to get the right sounds. I spent a year of my life with my co-producer, Scott Humphrey, to get it to sound and feel a certain way, so it was important to get it right. When you're making a record, that end result is your vision. Like the song "Hold Me Down," where in the beginning the drums are soft and low: Live, I sort of turned Will on to this way of playing around with the electronic sounds. And Will is real open to it. It's kind of new to him, so he's like, "Wow, this is insane!" I'm turning him on to a whole new dimension. We have a really good time playing together. We're like two kids in a candy store! I'm so lucky to have found him. Advertisement
MD: Where did he come from?
Tommy: Will played in a band called Stuff Mojo and a band called Scrape. So he's not new to the game, he is experienced.
MD: Let's talk about the new CD. How did you track your drums?
Tommy: Scott Humphrey has this great drum setup in his garage; it's well-treated, so it's very ambient and cool. He put the drums up on a wood riser, with a round platform. Then there's a round curtain ring that goes around the kit, so if you want, you can completely enclose the kit in a thick velvet curtain to make it real dry. Or, if you open the curtains, the sounds flying all over the place, for a big open feel. It was a very cool drum room.
MD: At what point did you track the drums?
Tommy: I usually like to do the drums last, because by that time, I know exactly what the song needs and what the song doesn't need. Sometimes when you play the drums too early on a track, you end up overplaying. Or you may not know yet that the part was going to be the way it is, so maybe you would have played something different.
MD: How did you create some of the loops you used on the record?
Tommy: A lot of them were created in the studio. Scott was also involved in that. When I was doing the demos, if there was a particular loop I was using to write, we would end up keeping it or replacing it later on. Some I created with this program called Reason by Steinberg. It's a cool program. Others came from a program called Fruity Loops for PC, and of course I use Acid. It was a lot of fun. Advertisement
MD: Let's talk about some of the songs. Did you write any of them starting with drums?
Tommy: The song "Blue" started with the drums. It had this amazing kick and snare sound with a delay on it, and all of a sudden it was like, "I've got to get this down before I forget it." I had just gotten this new Chet Atkins guitar Gibson sent me, and I pulled it out of the case and the riff came to me. I wrote that song in about five minutes. It's amazing how the sound of something can inspire you.
"Afterglow" started with a guitar riff. "Sunday" was guitar and drums. On "Body Architect" the guitars were played very percussion- like. We have these special switches on our guitars that I can beat on and play like a drum. I hit them with my fist so it cuts the crunch sound on and off. It' killer. I'm a drummer, so I play guitar with rhythm, and I sing with rhythm. Everything I do has rhythm.
"Face To Face" and "Higher" are in-your-face rock drums. The song "Higher" goes over real big live. With "Fame-02," I always dug Bowie, so I wanted to do that song, but with my own flavor. Advertisement
MD: If someone went through your record collection, what might they be surprised to find?
Tommy: Andrea Bocelli and other opera CDs. They shouldn't be surprised, but I love dance music. So they may also find Basement Jaxx and Orbital CDs.
MD: Any favorite jazz drummers you like?
Tommy: I remember seeing Chad Wackerman play. But he's more fusion than jazz. Steve Smith I like. Bozzio, well he's not really jazz. I have to admit I really don't listen to much jazz and country music. I'm really not that familiar with it.
MD: Any favorite funk drummers?
Tommy: I don't know a lot of names, but I do listen to funk. I've always liked the drummers with Prince. He always has great drummers.
MD: With no disrespect to any of their drummers, are there any bands that you would like to sit in with?
Tommy: Wow, I have to think. There are a lot of bands. U2, Van Halen, AC/DC, the remaining members of Led Zeppelin. I could go on?.
MD: Can we talk about Motley Crue?
Tommy: Sure. I talk to Nikki a lot; we're still good buds.
MD: Will you play together again?
Tommy: I'll never say never. But right now I'm so happy doing my own thing. Maybe in a few years, it could be possible.
MD: Did you enjoy the golf event Modern Drummer and Mitch Marine put together? [See MD December '01 issue]
Tommy: Oh, yeah. The jam at my house after we played golf ruled. I was playing drums and Stewart Copeland was playing guitar. For me, that was like, epic. I was like, "Oh my God, dude, I'm jamming with Stewart Copeland!" And Adrian Young from No Doubt – everyone there was so cool. We had a blast! All the drummers I know play golf. Maybe we'll make it an annual thing and then go back to my crib, and we'll all get together and go wild.
MD: I think the new record will bring you a whole new audience.
Tommy: When I did the show with Sum 41, I had thirteen and fourteen year olds coming up to me; "Tommy, would you take a picture with me?" It was awesome.
MD: How are your boys? I hear Brandon on the beginning of "People So Strange" saying "Let's Rock!" Are they showing any interest in music?
Tommy: They're great, thanks. They are totally into music. They have a little DW kit. They have an electronic kit, keyboards, guitars, and amps. I them set up with it all so that no matter what they gravitate towards, they have it. Who knows where it will all end up, but they certainly love banging the drums. We have a little band and we jam. They both play guitar and I play drums, and at the end of the song they're like, "Thank you, goodnight!" It's so cool because they really love it. It's great to see their eyes light up. Advertisement
MD: What's the best and worst thing about going solo, and doing it all yourself?
Tommy: The best thing is that, if it's successful, you can pat yourself on the back knowing that you did it all. And the worst would be if it sucks, well then you can kick your own ass. The best thing at the end of the day for me is, whether it does extremely well or extremely bad, I'm not going to get that crazy about it, because I know I made a good record. If it's not hugely successful, then, oh well, I know I made the best record I could make.
For more with Tommy, check out the Update in the September '02 issue of Modern Drummer magazine. And be sure to visit Tommy on the web, at www.tommylee.tv.