Billy Ashbaugh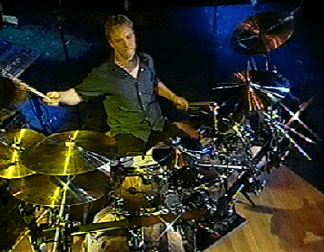 'N Sync, a pop band backed by live musicians, have gained a reputation of spectacle and not-to-be-missed precision. MD Online recently caught up with rising drum star Billy Ashbaugh, the man who keeps it all together.
By Ted Bonar
Popular music over the past several years has run the gamut from rap-rock to punk-pop to nu-metal, and each genre has enabled a new generation of drummers to come forth as some of today's hottest drummers. But the other genre of music that has been popular – and it has been phenomenally popular – is the genre known as the "boy bands." Boy bands have been around for decades, but 'NSYNC, Backstreet Boys, and others have recently raised the stakes to a whole new level.
The musical backdrop for these bands is necessarily spectacular, and the musicians have to be able to play, quite literally, along a laser's edge. The precision required to keep choreography, light shows, and football-stadium-sized TV screens in synch is an unbelievable task. Advertisement
Billy Ashbaugh is a drummer with spectacular technique, and his drumming is not at all lost on one of the highlight gigs in the last five years.
MD: What age did you start playing the drums?
Billy: I started playing rather late in life. I was fifteen.
MD: How did you get interested in drums?
Billy: I can remember banging on pots and pans at a very young age. I think it was just in my blood. When I was about fourteen, I went to a company Christmas party for my dad. I remember sitting behind the drummer and watching his every move. That was the first time I'd ever seen a drummer up close. I was blown away. Ever since then, I was hooked.
MD: Did you have any formal training?
Billy: The only formal training I had was with a drummer named Ronnie Ciago. I studied with him for about two years in the Ft. Lauderdale-Miami area. He's a great teacher who opened a lot of musical doors for me. He turned me on to many different styles and techniques.
MD: Do you play any other instruments besides drums?
Billy: Unfortunately, I do not play any other instruments. I'm just now learning how to play a little piano. I played trombone in junior high for one year.
MD: Do you get nervous when playing in front of huge crowds?
Billy: Performing every night in front of 50,000 to 60,000 people is an amazing feeling. In the beginning I used to get very nervous, but I've been doing it for so long that I don't really get nervous anymore. It's become more of an adrenaline rush. Advertisement
MD: How much freedom do you have to play what you want in the show?
Billy: I'm very fortunate to be able to play pretty much what I feel at the gig. The musical director, Kevin Antunes, will sometimes make suggestions to me on a particular type of fill or groove, but for the most part I get to play what I want. I can't think of one time that Kevin or the guys in 'NSYNC have told me not to play something that I was doing.
MD: You must be able to play perfectly with click tracks and sequences for this gig. How did you develop that skill?
Billy: Playing to a click isn't a problem for me because I spent so much time practicing with it while I was growing up. Plus, over the years, I did my share of gigs – mostly top-40 bands – that played with some sort of programmed or sequenced tracks.
MD: Do you play or practice any differently as a result of the size of the venues you play?
Billy: For me, the size of a venue has no effect on how I practice or play. I always strive to play my best, whether it's in front of twenty people or twenty thousand. At every gig, I just try to get into my zone and perform to my fullest potential. Advertisement
MD: What is the longest period of time you have been on tour?
Billy: Four months.
MD: Do you like touring?
Billy: Yes and no. Being part of the live show that brings 'NSYNC's music to so many fans is a great feeling. On the other hand, being away from my family and not getting to watch my daughter grow up is something that I will never get back.
MD: Who were some of your biggest drumming influences?
Billy: There are so many! My biggest would have to be Jeff Porcaro, Steve Gadd, Dave Weckl, Dennis Chambers, Phil Gould, Steve Smith, Vinnie Colaiuta, Carter Beauford, David Garibaldi, Terry Bozzio, Omar Hakim, and Manu Katche.
MD: Do you listen to any new bands? Has anyone new caught your ear as a player?
Billy: For the most part, I've only heard what's being played on the radio. I know that there are a lot of good young drummers out today. I really like John Otto of Limp Bizkit and Rob Bourdon of Linkin Park. Advertisement
MD: Do you write your own drum parts to the 'N SYNC songs?
Billy: Only on the songs that I get to do in the studio. The rest are usually programmed by the producer or whoever wrote the song. When we perform live, I do get to add my own touch to the drum part to give it that live edge.
MD: What gear are you using?
Billy: I play DW Drums and Paiste Cymbals.
MD: How do you set up your kit?
Billy: I like everything very tight and in close. I don't like having to reach for the drums or cymbals.
MD: How have you tailored your kit for the 'NSYNC gig?
Billy: I change my kit slightly for every tour, depending on what songs we're doing. For a song like "Digital Get Down," I'll need to bring out the X-hat. I'll also add various trigger pads or percussion as I need them. This last tour – the Pop Odyssey tour – I added a 14″ floor tom to the right of my 16″ floor.
MD: How do you keep in shape on the road?
Billy: I keep in shape by having a good diet and practicing as often as I can. I try to exercise when I can, but it's really hard for me to do on the road.
MD: Do you have a practice routine?
Billy: Whenever I have some free time, I find myself on the bus or with a pad in the hotel room practicing. My practice routine varies depending on what I'm trying to bring to the gig at that particular time. I'm constantly trying to come up with new stuff – grooves or fills – for the show. Advertisement
MD: What type of exercises do you practice? What techniques do you work on?
Billy: Lately I've been into linear playing and mixed-sticking fills and grooves. But again, I think it's important to work on your current gig. So the exercises or techniques that I work on depend on what part of the show I'm trying to improve. It could be anything from double bass fills to soloing to just trying to make everything groove better.
MD: Does your playing change at all after a few months on the road?
Billy: My playing does change as the tour progresses. I tape the gig every night. At the end of a tour, when I listen back to a disc of one of the first shows, I hear a noticeable difference in my fills as well as the grooves.
MD: Do you have any specific drumming goals you have yet to accomplish?
Billy: My only drumming goal is to constantly improve and to be the best drummer I can be. For me, that's the beauty of playing an instrument. As long as you apply yourself, it's a never-ending journey of discovery and improvement. Advertisement