Zach Lind of Jimmy Eat World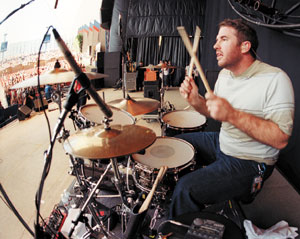 It's ironic that Jimmy Eat World, one of indie rock's front-runners (alongside peers like The Promise Ring and The Get Up Kids), a band that's seen their fan base swell in exponential proportions in the past year, have never released a full-length album on an independent label. Unlike their contemporaries who've hashed it out for years on struggling, bedroom-based record companies with minimal tour support and microscopic recording budgets, the Eat Worlds inked their first record contract with Capitol Records fresh out of high school in 1995. And though many would think signing a deal with a major label would equate to instant success, Jimmy Eat World's two-album tenure on Capitol hardly put a blip on the radar of mainstream rock.
"Unfortunately Capitol really didn't believe in us," drummer Zach Lind recalls of his prior label experience. "But in a way, that was sort of a good thing, because it let us take control of what we needed to do. We learned we had to do it ourselves, because no one else would do it for us."
During their self-educating stay at Capitol, Lind and the group created a pair of critically acclaimed albums, Static Prevails and Clarity, which were produced with Mark Trombino. Though both albums were clearly written from the same creative minds, each had distinct personalities. Advertisement
Static Prevails was the more aggressive, noisier, and edgier installment, showcasing Lind's substantial rock drive and remnants of his punk-rock upbringing. It was on Static where Lind established his trademark sound as a highly dynamic performer, with an ability to explode at the drop of a hat. Complementing vocalist/guitarists Jim Adkins and Tom Linton's breathy to full-bore vocal trade-offs, Lind was right on cue during each transition, keeping it simple yet bursting into full quarter-note crashes when called for.

Clarity took an entirely different route, opting for an airy, predominantly experimental approach to their material. With Lind occasionally exchanging his sticks for timpani mallets or incorporating drum loops, the album had a fresh sonic edge. Unfortunately, rousing critical acclaim didn't necessarily translate into rocketing sales figures, and the band left Capitol after Clarity's release in 1999.
Lind and company headed back into the studio with Trombino and tracked a new batch of material on their own, eventually signing up with DreamWorks shortly thereafter. With the completed album in the hands of their new home, the band began touring again. In August 2001, Jimmy Eat World's third album, an eponymous effort (originally dubbed Bleed American) was released. Advertisement
The end result of Jimmy Eat World was twelve tracks of pure power-pop bliss. Although the material was decidedly poppier and more straightforward than their previous efforts, Lind's performance was just as creative as ever, from the missing beats of "Get It Faster" to the innovative tom work on "Your House." And with three successful radio singles, "Bleed American," "Sweetness," and "The Middle" in tow, Lind and company were able to latch onto major tours with Weezer, Green Day, and Blink-182, where audiences got to witness the drummer's relaxed yet disciplined physical demeanor first-hand.
All of a sudden the anonymous group of nine years wasn't so faceless anymore. And though Lind says it's been the ride he's always wished for, he insists his dreams are yet to be fully realized.
MD: Thinking about where you were just over a year ago, is it easy to handle all this newfound attention?
Zach: It's sort of hard to have a perspective on it; we're a little too close to it. We've been on the road so much, we're sort of in this "bubble." I don't think we've really had a chance to see how it's played out. Advertisement
The one thing we have noticed is just how crazy our schedule is now. The only downside to that is we've been gone so much. I have a wife and an eight-month-old daughter, and I miss them a lot. Other than that, I feel really lucky to be making a living doing this. We're all sort of surprised by it. It's good to be able to do something like this and still take care of your family–that's the coolest part about it.
MD: What's your musical background?
Zach: I started playing in school band in fifth grade; I was playing saxophone, but I wasn't very good at it. My cousin had a snare drum, and whenever I'd go over to his house, I'd just play it all the time. It was a lot of fun for me, so I convinced my mom to switch me from saxophone to drums.
From day one I felt that I was a lot more natural at drumming. I started taking lessons from my mom's co-worker's son, who was about five years older than me. He was a really good, talented drummer and helped me out a lot. I think he kind of infused the passion for playing drums in me as well, as he was obviously into it. Advertisement
I was in a band in high school with Tom [Linton], and that band eventually split up, so Tom and I decided to keep going and bring in some new people. I talked Jim into coming over and playing with us, and that's how we all started. It was kind of the first time that two really great guitarists, out of every one we knew, were playing together. It was a neat thing to see.
MD: So when was the band actually formed?
Zach: The end of '93.
MD: How old were you at that time?
Zach: I was seventeen. We all turned eighteen in '94.
MD: You guys signed to Capitol rather quickly!
Zach: Yeah, we did. We started making a record in '95, Static Prevails. We were young and the band was basically our escape plan–to go on tour. That's all we saw it as.
MD: So much for your "indie rock cred"!
Zach: Yeah, I think we were just guilty by association with the bands we hung out with. People saw us that way. And Capitol wasn't really shoving us into anyone's face. If you discovered us, you probably discovered us from the underground scene, and I think that's how it got justified. But we never had that "we need to be punk rock" thing. We just wanted to make good records and associate with people who believed in us.
MD: Were your influences from the underground indie-rock scene?
Zach: Yeah, I think so. The one band that influenced us the most is a band called Christie Front Drive. They're from Denver; they were sort of influences who then became peers. I think that band changed our outlook on guitar music. Advertisement
MD: Was your earlier material more straight-ahead?
Zach: It was like pop-punk stuff–NOFX, J Church, Rocket From They Crypt. We heard Christie Front Drive and it was really melodic but still very powerful. We kind of changed our direction after that.
MD: What about your personal influences' Which drummers were you listening to early on?
Zach: I've never been about one drummer or another. I really loved Pat Wilson from Weezer for a long time. Steve Ferrone, who plays in Tom Petty & The Heartbreakers, has become a favorite. And of course, The Heartbreakers' original drummer, Stan Lynch.
MD: Ah, yes, that kick-back-but-still-rockin' approach to the kit.
Zach: Yeah, totally. I think that's what I like.
MD: Do you think you still have a lot of work to do?
Zach: I totally do. It's like, I've been playing since I was ten years old. I should be so much better than I am.
I'm looking forward to when we have a break from touring. That's when I'll have time to head down to my basement and get to work. I'm planning on putting in a few hours a day to really improve my skills and work on different things. Yeah, I'm looking forward to that. Advertisement