Tim Alexander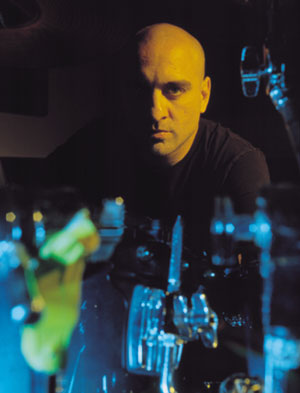 When Tim Alexander left Primus in 1996, he was ready to move from the wacky, experimental frenzy of rhythms that had made the band a household name to a more structured rock format. He started his band Laundry to be able to do just that. Little did Alexander realize that trying to get a rock band off the ground in today's "do it yourself" music business is not quite as easy as sailing the seas of cheese.
In Primus, Tim had laid down some unique and groundbreaking drumming, helping to launch the underground Bay Area post-punk progressive band into stardom. Two gold records (1991's Sailing The Seas Of Cheese and 1995's Tales From The Punch Bowl) and their hugely successful 1993 release, Pork Soda (which debuted in Billboard's Top-10), established the quirky trio as a pop act with a twist.
But Primus became too much of a musical twist for Alexander. After leaving Primus, the labor of his band Laundry again became too much for Tim to deal with. (He had taken on the chores of drummer and lead vocalist.) At that point it seemed that Tim had all but disappeared, until he emerged in 1998 with an improvisational project on the progressive Magna Carta label called Attention Deficit. (The group features bassist Michael Manring and former Testament guitarist Alex Skolnick.) This instrumental trio proved interesting and experimental, though in a different format than Primus. But it still gave Tim the freedom to challenge his considerable drumming skills. Advertisement
Attention Deficit has recently released its second adventure in heavy instrumental rock explorations, The Idiot King. Tim's drum sound is massive, and his attitude shines through with aggression on the somewhat structured odd-meter pieces. This record, in particular, proves Tim is still haunted by the spirit of Primus. But don't look for him on the road or hanging out in the city by the bay. He's packed his drum cases for yet another adventure, this time in the city of Lost Wages.
MD: So, what are you doing in Las Vegas?
Tim: I'm working as a percussionist in The Blue Man Group.
MD: How did that gig come about?
Tim: I went to the show and really dug it. So when I got home after the show, I went on the Internet to check it out and see what it was all about. I wasn't doing much at the time professionally, because my group Laundry wasn't working. So I thought I'd see if the Blue Man show was auditioning players. I found out that they were, so I went for an audition. About a month later I was in the group.
MD: What was the audition like?
Tim: The first thing they did was play about fifteen seconds of one of their songs. They wanted to hear me play it to find out if I could learn the parts quickly. They also wanted to see if I could pick up on the feel and play it back. It was one of their more rocking tunes. Then they showed me some of the other rhythms that they use, and I had to play them. The interesting thing for me was that I had to learn to play other people's parts, as opposed to creating my own parts, which is pretty much all that I've done with the bands I've played in. Advertisement
MD: What's your role in the show?
Tim: It's really cool. We get to dress up in glow-in-the-dark paint and do all kinds of crazy stuff. There's a huge wall of drums, and we get to leave our positions on stage and go up on this wall and play all these weird drums. It's about thirty feet high, and we're up there doing crazy things. I don't want to give away the whole show, but it's really cool.
MD: Has your playing changed much since leaving Primus?
Tim: Oh yeah. I haven't had the desire to come up with crazy parts all the time. In Primus, we always tried to create new and different rhythmic ideas. Now I listen to the music and come up with parts that fit yet make it sound like me.
MD: So how does Attention Deficit fit into your style of drumming? It's pretty creative instrumental music that must stretch you as a player.
Tim: It was hard for me to do this project because I've been going through a period of not being too interested in the drums musically, just trying to find other things that interest me, like writing tunes and playing guitar. Attention Deficit came at a time when I wasn't really interested in my own drumming. It forced me to go in and play, but I really didn't feel at my best as a drummer. Advertisement
Doing those records put the pressure on me to play more and show off a little. I'm just not one of those Dennis Chambers kind of drummers. With the new disc, Idiot King, we wanted to make a record that was cool musically but had a little more organization and planning-like some of the older fusion records that were still rockin'.