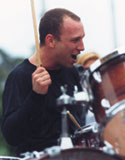 The candle that burns twice as brightly burns half as long. That saying seems appropriate when discussing the flare-out of a staggeringly influential band like LA's alternative rock pioneers Jane's Addiction. "We had a moment in 1986 when music was ready for a change, and we were happy to do it," says Stephen Perkins, who joined Jane's when he was just eighteen. In 1991, after a year-long tour supporting its acclaimed sophomore release, Ritual De Lo Habitual, the band burned itself out creatively. "At that time, there was no chance of going into the studio again," Perkins explains. "There was no steam left, and we didn't know how to refuel."
Twelve years later, original Jane's Addiction members Perry Farrell (vocals), Dave Navarro (guitar), and Perkins returned to the studio with new bassist Chris Chaney, whom Stephen met when they both toured with Tommy Lee's Methods Of Mayhem. Hypersonic, the group's unexpected comeback, revisits the percussive tribalness that's both Perkins' calling card and the core of the Jane's Addiction sound.
This summer, Jane's Addiction hits the road with 2003's version of Lollapalooza, the alternative rock festival founded by Farrell in 1991. If anyone could bring Lollapalooza back, says Perkins, Jane's Addiction was the band to make it happen. "When we put the feelers out and the best bands came back to us, we thought, 'Okay, this must be right.'" The Festival's line-up features Audioslave, Incubus, Queens Of The Stone Age, and The Donnas.
At this point in his career, Stephen admits nothing's better than having Jane's Addiction back together as a working band. "The band is so powerful now, it's like driving a Ferrari. We took thirteen years off, and now people are ready for us again. It's a wonderful time!"
Gail Worley