Shannon Larkin of Godsmack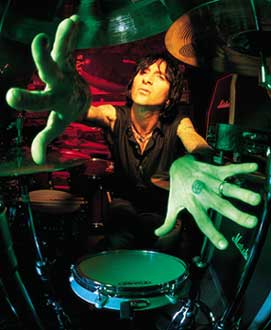 Growing up, Shannon Larkin worshipped at the twin altars of Neil Peart and John Bonham. To say that he was into classic rock would be an understatement. So getting a call to play a one-off show with Black Sabbath in 1997 was the thrill of a lifetime.
As Larkin recalls that gig now, everything was going great until the band ripped into "Sweet Leaf" – when he realized he couldn't remember a part of the tune. "I had four bars to get it together," Larkin admits, "so I thought, If anything, I'm just going to accent, stop, and listen. I might miss one beat, but then as soon as I hear it I'll come back in. Well, I stopped, but it was a big guitar accent! Then I remembered and came in with the rolls," Larkin says with a laugh. "But the look of evil that Tony Iommi gave me – it was like he was the prince of darkness."
Larkin, of course, wasn't thrilled either. "It was the only mistake I made," he says. "But I was so annoyed that I stood up and whipped my sticks at the backdrop. And then I turned around and there was Ozzy standing there. He was like, 'It's alright mate,' and then he pulled his pants down to his ankles." Then Larkin laughs hard. "Yeah, it was fun." Advertisement
While this is a peak into Larkin's career, it's not the top of the mountain. Just last year, the journeyman musician got a phone call from old friend Sully Erna, who was looking for a drummer to fill the spot in his multi-platinum band Godsmack. It was a cathartic phone call, since at that point Larkin was debating whether he wanted to continue playing for a living.
"I had just finished the Glassjaw record Worship And Tribute, and I was kind of fed up," Larkin admits. "It had been fifteen years of work for me, and I had done fifteen records." At that point he was a member of neo-metal act Amen, but Larkin decided to quit and pursue the session scene. "Two weeks after I left Amen," he says, "Sully called. He had no clue that I wasn't in a band anymore, and I had no clue they were having trouble with Tommy Stewart. It was just like magic. I was like, Wow, man, maybe it is in the cards for me after all."
To be sure, Larkin's elusive band success story wasn't for lack of trying. When he got his first kit, a blue sparkle Remo, a neighborhood friend named Terry Carter received a guitar. The two spent the next sixteen years together, learning their instruments and playing in the thrash-metal outfit Wrathchild America. That band morphed into Souls At Zero after a major-label deal and a couple of releases. Advertisement
Larkin played with Souls until 1994, when he met Whitfield Crane, Ugly Kid Joe's lead singer, during a tour stop in Vail, Colorado. "Whit came up on stage and sang an AC/DC song with us," Larkin recalls. "After the show he was like, 'Dude, come to Santa Barbara and join Ugly Kid Joe.'" Even though he wasn't an Ugly Kid Joe fan, Larkin fell in love with the town and was struck by the band's energy. "They were so passionate about the craftsmanship of a song," he says. "They were more of a rock band than a metal band. Metal can be very technical, where here it was all about the hook, the riff, and the song. It wasn't rocket science on the drums or anything, but they taught me about playing for the song – what's important drum-wise."
Along with Larkin's Ugly Kid Joe responsibilities – he played on the band's Menace To Sobriety and Motel California releases – he also started doing a handful of session dates, including albums with ex-Judas Priest guitarist Glenn Tipton, King's X bassist Doug Pinnick's side project Poundhound, and Vanilla Ice's rock debut Hard To Swallow. "I'm proud of that one," Larkin says of the Vanilla Ice disc. "That was a killer record. Producer Ross Robinson is very demanding when it comes to drums in the studio. Everything had to be 110% for that guy, and I love him for that."
When Larkin joined Amen, his playing took another step forward, thanks to the writing of the band's Casey Chaos. "Amen's music was difficult to play," Larkin admits. "It was constant 16ths, which they liked me to play on the bass drum. Casey was adamant about a single kick, too. He would come up with these single-kick beats that he wanted to complement the riffs. It was some serious stuff. I was with them for four and a half years, and by the end my right foot was fast." Advertisement
Larkin is happy to explain his fantastic kick technique. "I definitely use the ball of my foot," he explains, "and my heel is totally off the pedal. I think the trick to playing a powerful pedal is letting the pedal do most of the work. It's the same thing all around the kit. Lou Ferrigno could sit down behind my drums and whack the snare as hard as he could with all his bulk. But I'll sit behind it – weighing in at only 115 lbs. – and make that snare sound way louder than he could. It's all about your technique."
Between the metal and punk bands, Larkin built a reputation as a fiery live player. That vibe, he says, came from the influence of frontmen and lead guitarists. "First and foremost," he says, "I like to think of myself as an entertainer. When I was a kid and would go see bands, the drummers would all just sit there and play. Even if they had an intense look on their face, there was never anything more physical than the drumming. My idols were always the singers and the lead guitarists. For instance, AC/DC's Bon Scott and Angus Young – I worshipped those guys. Phil Rudd was a great time drummer, and his cymbal playing was awesome, but he just sat there and played. Don't get me wrong, he's a great drummer. But I was like, I want to be Angus Young on the drums. So I started banging my head like an idiot."
Godsmack's frontman, Sully Erna – a dynamic drummer in his own right – raves about Larkin's stage presence. "He's a great drummer," Erna enthuses. "Shannon has good chops, and his tempos are really nice. But he's a great performer. That's where he shines the most. For years I'vetold people about him, saying that if God made anyone to play the drums, it was Shannon Larkin." Advertisement
Sixteen years, countless tours, and dozens of albums later, Shannon Larkin never thought he'd be where he is today. "Not in my wildest dreams," he says with a big smile. "Every band that I've played with, and every record that I've made, I thought would be huge. There's never been any doubt. I've never joined a band and thought, 'Yeah, this is all right. I'll do this until I find something better.' Every band I've been in I've believed in. That's why I think at the end of Amen I was like, 'You know what? Maybe this isn't what I do.' I've put so much faith and belief into bands, and then when it didn't happen, I felt like I'd been beaten down. But now I'm so glad that I stuck it out. Perseverance got me the Godsmack gig. And I couldn't be happier."