Chevelle's Sam Loeffler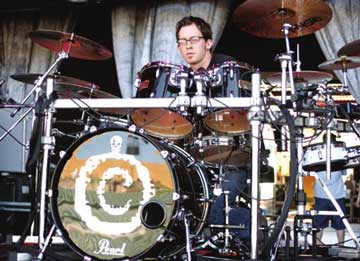 Literally a few days before our interview with Sam Loeffler, the news came that Chicago trio Chevelle had just been awarded platinum status (sales of one million copies) for their sophomore effort, Wonder What's Next. And that's exactly the question that's been on the minds of Chevelle fans – after an impressively sudden surge in popularity, what is next for the heavy rock outfit that bears the classic Chevrolet moniker?
In existence since 1995, Chevelle is actually a family affair. The set of Loeffler brothers – guitarist/vocalist Pete, bassist Joe, and drummer Sam – virtually had their whole lives to prepare for the level of success they've attained. But even a lifetime wasn't enough to cushion the astonishment that they've encountered through their recent success.
Nineteen-ninety-nine's Point #1 helped introduce the act to the commercial rock market, but didn't exactly make the waves Wonder What's Next has. Recorded by veteran Chicago-based engineer Steve Albini, Point #1 still made for an incredible breakthrough album for the act and gave Chevelle the rubber it needed for the road, where the trio found themselves touring relentlessly. Advertisement
It wasn't until the act hooked up with producer Garth "Gggarth" Richardson for Wonder What's Next that their ideas come to fruition. And that's where eldest brother Sam really began to shine.
Holed up for nine weeks in a Vancouver studio, Sam and his brothers took the time – and, as he admits, somewhat liberally'to fine-tune their tracks for Wonder What's Next. The result was eleven cuts of meticulously crafted material, spotlighting Sam's bombastic performance, creative use of dynamics, and discerning selection of fills.
Sam and Chevelle have also been quite visible on stage lately, particularly as an OzzFest main-stage act this year. But it wasn't too long ago when the band was the opening act on bills in 200'seat capacity clubs. Sam and his brothers are now rocking 20,000-plus heads nightly. And as Modern Drummer discovered, there are numerous reasons behind Chevelle's rampant success. Advertisement
MD: Congratulations on the announcement of your platinum record.
Sam: Oh man, things are at the top of what they've ever been for us. This week "Send The Pain Below" went to number-1 on both the active rock and modern rock charts. I mean, I can't believe how many people like the record. It's just rad, mainly because, in the long run, this kind of success will allow me to play music constantly. I'll get to perfect these songs and go make another record. That's so exciting.
MD: Are you already envisioning the next album?
Sam: Oh yeah! We're excited about following it up, but we're just thinking about what we're going to do differently, things we didn't get to do on the last one.
MD: So what are some of those differences?
Sam: Well, we want to stay with the melodic heaviness, which is something we've always been about. We've been talking about making our sound a little bit heavier. As for the drumming, I'd like to do a lot more double bass stuff.
I've been working on a lot of double bass fills and beats, where it's not just constant double kick. I really like that kind of stuff, so we're trying to write some songs around those concepts. When we actually get the chance to sit down and jam, things are just flowing, because we've been on the road for so long. Advertisement
MD: You've barely had a chance to sit down and breathe.
Sam: It's been seventeen months straight. That's a good amount of time. But when a band really wants to push a record, it takes that kind of commitment.
MD: Getting back to your drumming, where's this newfound interest in double kick patterns coming from?
Sam: I have a friend who I run everything by. His name is Dean Bernardini, and he plays in a band in Chicago called Liftpoint. I met up with him when I was eighteen, and he's like the big brother I never had, since I'm the oldest boy in our family. But Dean taught me what it means to have technique. He literally taught me what it was to have style. Dean's a great drummer, and he was able to spot problems in my playing early on.
MD: Like what?
Sam: There were some small things I did about ten years ago, like I'd leave the kick drum beater planted on the head, which would make it take longer to get to the next hit – little things like that. But also watching Dean, I learned about the importance of the left hand. Working on leading with your left will do so much to help your overall drumming, even if you don't plan to do it all of the time.
Early on, my technique was so poor. I had to relearn how to play. I'd reached a point where I couldn't get any faster because my technique was wrong. I literally had to relearn how to play, and Dean was the guy who helped me do that. He's super-diligent, and would make me run through rudiments and things like that. At the time I had to force myself to work on that stuff.
MD: Why do you think you didn't have the drive at that point?
Sam: I think that when you're young, you want to do all sorts of different things. Besides, I didn't think this was going to be a career for me. It wasn't until I was twenty-three years old that I realized I'd be doing this professionally. Advertisement