Mickey Hart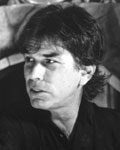 Kodo's Mondo Head was an intense labor of love for producer Mickey Hart, who recorded over thirty hours of music from morning 'til night for a project he describes as "a marvelous hybrid filled with beautiful grooves and wonderful vocalizations. I wanted it to be deep, heavy grooves from the heartbeat of the earth," says Hart, who says it is among his finest work.
Hart has known the Japanese musicians who make up Kodo since the mid-'70s, having seen them perform and having had various members of the group sit in with The Grateful Dead. "When they asked me to do something with them," Mickey says, "I thought that I didn't want to make another taiko record, because they didn't need me for that. So this is the dream–to combine all the Planet Drum powers with ecstatic vocals and taiko drumming and present it in surround-sound.
"These guys came out of the taiko box and ate this project up," Hart says. "Taiko is a very strict classical form in which the musicians really don't jam. But this record came out of the jam, out of their subconscious, not their heads. This was not written down or composed like a taiko record. They really wanted to break loose. And any time they'd pick up a pencil and paper, I'd take it away from them and say, "Next record, not this one." They'd laugh and say, "Okay, Mickey-san."" Advertisement
Hart recorded the basic tracks at his own studio, with some solo overdubs done in Tokyo. "Then we rotated different kinds of instruments," he says, "whether they were from Indonesia, Japan, or South America. But taiko drums were at the core. Each day I had a guest artist come in to play, like Zakir Hussain, Airto, or Giovanni Hidalgo. As for my style of recording, it's about playing, not thinking. So I recorded everything that moved. Then after the musicians left, I edited the parts.
"It was a great experience," Mickey concludes. "It was like drum camp when they were all at my house. Everybody slept, ate, and played together."