Karl Perazzo, Dennis Chambers and Raul Rekow with Santana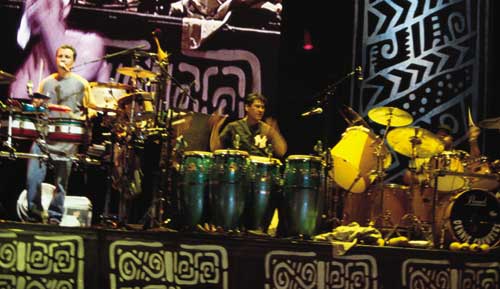 A rhythmic force of nature since its inception in San Francisco's Mission District in 1966, the Santana band has always set the bar high. And now, with superstar drummer Dennis Chambers joining percussionists Raul Rekow and Karl Perazzo, the bar (and the expectation) is even higher.
The chops level is, of course, at a peak. But even more impressive is how intently the bandmembers are all listening. It's not the frightening technique, but the calm, evenness of the groove–grounded yet explosive–that is most inspiring. The band has been sizzling in concert, whether rearranging Santana staples like "Oye Como Va," cranking out "Maria Maria" from the 2000 smash Supernatural, or stretching out on a bold new instrumental called "Victory Is Won."
Capping it off with a world tour in support of a new Santana album (due out shortly), Dennis Chambers has had a very visible year. He appears on Niacin's Time Crunch (Magna Carta), Uncle Moe's Space Ranch (Tone Center), and Mike Stern's Voices (Atlantic). But Santana is clearly where his focus is now. Chambers rarely took his eyes off his bandmates during a recent show in North Carolina, and he seems quite content in the Santana drum seat. He clearly delights in listening to the exciting, veteran percussion section. "I'm having a blast," he smiles. Advertisement
Raul Rekow joined Santana's ranks as a bad-ass young conguero to play alongside Jose "Chepito" Areas and drummer Gaylord Birch on the Festival album in 1976. Since then Rekow has worked in Santana alongside such percussionists as Pete Escovedo, Armando Peraza, Orestes Vilato, and Francisco Aguabella, and drummers such as Graham Lear, Craig Krampf, Chester Thompson, Walfredo Reyes Jr., Rodney Holmes, Horacio "El Negro" Hernandez, Ricky Wellman, and Billy "Shoes" Johnson. Karl Perazzo joined Santana in the late 1980s after stints as percussionist and drummer with Pete Escovedo, Sheila E, and Prince.
In the current Santana show, either Chambers gets an extended solo, or Rekow and Perazzo do their percussion solo together, but usually not both in the same night. When I attended a second show on the tour, Chambers recalled that at the first show I had seen his solo. He persuaded Carlos to change the set so that I could see Rekow and Perazzo do their solo that night. No question, the Santana rhythm team is the most impressive in the business.
Carlos Santana appreciates his new drummer's musical qualities, his pedigree, and his thoughtfulness. "I'm a fan of Mike Stern, John McLaughlin, and John Scofield," he says, "so I'm really honored that Dennis wants to be here. It seems he wants to be part of a family thing. And he has an enormous spiritual disposition, so we can hang beyond the music and with the music." Advertisement
MD: How much time did the band spend in rehearsal before going out?
Raul: Seven days. We really only did a couple of songs a day at first. We didn't do a whole lot of rehearsing. Dennis is such a quick learner, as we all know.
Dennis: A few accents – other than that I'm okay.
MD: I would think that those accents have to be there, because there's so much emphasis placed on them.
Raul: Absolutely. Carlos wants those accents to be there, and if they're not–we'll be killed. [laughs] But it's really important to the music, especially Carlos's vision, that he can make his music come across the way he wants it to.
MD: At the concert, I thought you were ten for ten on the accents.
Dennis: Fooled you. [laughs] No, I don't think we had any major boo-boos.
MD: Dennis, your mounted bass drum is great for letting the audience feel, as well as hear, those accents.
Dennis: It's just a bass drum on a stand. Most drummers know it as a gong bass drum. But Pearl doesn't offer one like Tama does, so they made me a 16×20 bass drum and put it on a stand. I've had it for a while, but this is the first time I've used it in a band.
Karl: As for the rehearsals, I think they helped us to adapt to Dennis' playing, to his groove, and vice versa. And once it's in, it's there. But we had the kind of rehearsals where we were thinking, "We'd better listen." And I think that's why we're really tight now. Advertisement
Raul: Every drummer has his own pocket, and it was just a matter of getting acclimated to the way Dennis plays. Every day is a learning process–and we're students for life. Now we're getting close to all being at the exact same place at the same time. That's surprising, because it didn't take very long with Dennis. And for me, to be able to play between him and Karl, another one of the best in the world, is just amazing. It's so easy to play. It's like connect-the-dots. [laughs]
MD: What was the adjustment like for each of you?
Dennis: The adjustment for me was just one of playing with a big band again. Since P-Funk, I haven't played with more than four pieces. That means your ears have to adjust, because you have to listen to everybody on stage. That's a lot of people. And everybody plays a real important role in the band. Also, I've never ever played with two percussionists in a band. I have to listen really hard.
MD: Is it difficult listening to two percussionists like that?
Dennis: It's really like listening to one person, because Raul and Karl move so well together.
Raul: I was telling Karl last night, he's like my right hand. When I play with other percussionists, it's not the same. The very first time I played with Karl he knew everything I was doing, where I was going, and even how I was going to end phrases. So it's nice to know that the chemistry is happening and we can lock up on the same spot. Advertisement
Now when Dennis goes into his solo stuff, I'm sitting there with my jaw on the floor. It's amazing. He goes where Elvin Jones goes. He's the only guy that I know of who can play four different time signatures at the same time, and swing it. It's ridiculous.
Dennis: Meanwhile, I'm sitting there trying to figure out what I'm supposed to be doing. Who's driving this bus anyway? [laughs]
MD: In terms of the actual groove, do you find that the Santana groove is right on top of the beat, where P-Funk maybe was a little behind?
Dennis: I think it's more on the beat. But also, sometimes Carlos wants to pull it back. So when he gives a sign or indicates with a body movement, I try to put it right where he wants it, right where he is.
MD: You're watching him pretty closely.
Dennis: I'm watching everybody closely, especially Karl, Raul, Carlos, and Chester [Thompson, keyboardist].
Raul: Dennis said something when we first started playing together. He said that the music's more important than any one individual. And that's so true. The music really dictates what you're supposed to be. The groove, and where the pocket sits, is more on the beat and behind than it used to be. It used to always be on top and always pushing, and the tendency was to speed up. But it was a natural thing, a Santana thing. But now we're playing songs like "Maria Maria" and "Smooth," where you don't want to push too hard. Advertisement
MD: Dennis, is this band something that you want to try to schedule in regularly?
Dennis: Definitely. I'm having a blast. This is the first time in a long while that I'm a part of something that feels like a family. Being around a bunch of great guys with no egos is also refreshing. You can talk to anyone on that stage and they don't take offense.
Raul: That's a prerequisite for this band–you have to be a good person first. What sold me on Dennis was his morals and principles as a human being. Believe it or not, a lot of people don't care about that.