Josh Freese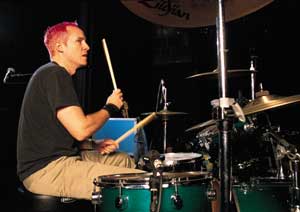 Looking at Josh Freese across a Starbucks table, it's hard to believe I've known him since he was eleven years old. Suddenly it struck me that he was then the same age that my son is now, and the comparison was mind-blowing. At eleven years old, Josh was already fiercely into his instrument. He had a career focus and a true commitment. When I met this kid, I wondered to myself if his ambition would last.
Well, Josh's passion hasn't wavered for a moment. Having just turned thirty, he has produced a body of work that most musicians wouldn't have the opportunity to complete by age fifty. And although the eyes looking back at me today have an obvious maturity (he and significant other Nicole Amdurer are parents of an almost two-year-old, Hunter Cole), Josh's enthusiasm for the work is still wonderfully childlike.
Freese took the instrument seriously from the get-go. His first drum teacher was Ron Romano, who he started with when he was eight. Unfortunately that relationship ended when Josh's dad, the director for the band at Disneyland in California, got Ron a job playing down at Disney World in Florida. "I cried when Ron left," Josh admits. But watching his dad direct the Disneyland band, combined with playing to Devo records in his bedroom, seemed to be a productive next step for Freese, whose other significant teacher was Roy Burns. "He was a great teacher," Josh says. "I've tried to teach, and I suck at it. People ask me all the time to give them lessons, and I tell them not to waste their time. Some guys are great teachers and some guys aren't." Josh has also taken lessons with drum giants like Terry Bozzio and Gregg Bissonette. Advertisement
Another "tutor" for young Josh was Vinnie Colaiuta. The two met at a NAMM show when Josh was eleven, and it turned out to be an invaluable experience for the youngster, as Vinnie began regularly inviting him and his father down to LA club the Baked Potato to see the master play. "I'd sit behind Vinnie," Josh says, "and I'd leave being half-inspired and half-discouraged. He was phenomenal, and then he'd be cool enough the next day when I'd call him at 9 A.M. to answer my stupid questions, like, "What kind of bass drum beater were you using last night?" He had probably gotten to bed two hours before, but he was always cool to me."
At that same NAMM show, Josh's life took a major turn, when, while banging away on some Simmons electronic kits, the company took notice of his impressive playing and asked him to represent their company to the youth market. Simmons sent Freese to various NAMM shows to demonstrate the product, and even put him in a commercial. The only drawback for Josh was that he became tagged as "an electronic drummer," and he spent the next three years as the electronic drummer beside the set drummer in a Disneyland band called Polo.
By age fifteen, Freese was itching to have some different experiences. "I grew up a huge Devo fan," he admits, "but by the time I was eleven or twelve, I had read many articles in Modern Drummer with Terry Bozzio, Vinnie Colaiuta, and Chad Wackerman, where they were saying, "Playing with Frank Zappa was so challenging – playing with Frank was so this – playing with Frank was so that"." So I started going out and buying Zappa records, and I became infatuated with that music at a pretty young and impressionable age." Advertisement
A chance meeting with Frank Zappa's son Ahmet brought Freese to Ahmet's brother Dweezil's attention. Although he never played with Frank, Josh did have the thrill of watching him in the studio, and he did get to play with Dweezil. It was in Dweezil's trio that Josh came in contact with one of his greatest mentors, Frank Zappa bassist Scott Tunis, who turned the youngster on to punk rock. Aside from opening musical doors, Tunis, who was already an adult, taught Freese an even greater lesson about maintaining an open mind.
When Dweezil took a break, Freese landed his first major tour with Michael Damian, and eventually came in contact with the bands Infectious Grooves and Suicidal Tendencies. Before he knew it, Josh was getting an abundance of session calls for his ability in the studio to play spot-on but a little left of center. In the early '90s, he hooked up with the punk band The Vandals and recorded and gigged with Paul Westerberg. Albums by Juliana Hatfield, Meredith Brooks, Chris Cornell, Tracy Bonham, Indigo Girls, and A Puddle Of Mudd followed. Before he knew it, Josh was surprised to find himself voted number 2 studio drummer in the Modern Drummer Readers Poll.
Freese has never stopped long enough to realize that he is, in fact, a top studio musician, or fully acknowledge the recognition his position has brought him. Heck, Josh wasn't even aware that he had recorded half of the recent multi-million selling album by Avril Lavigne until way after its release. At that time, it had been just another session with a producer he knows. Listeners can be forgiven for not knowing all of Josh's big credits, too, for instance, his uncredited appearance on Puddle Of Mudd's huge Come Clean album. Sometimes the project name changes by the time the music is on the radio, so Freese is always amused when he finds out that he's the drummer on the song he's hearing on the radio. Advertisement
According to Freese, many times the scenario goes like this: "I'll get a call from a producer who says, "Josh, I need you in the studio next week. The band is back wherever they live. We have all the Pro Tools files open – it will be you, me, the computer, and an engineer. You have to redo three or four songs. So I'll go in, knock out the tunes, and a lot of times I don't even hear the finished record. Sometimes it ends up being a hit without my even realizing it."
After being a member of Guns N' Roses between 1998 and 2000, Josh left in favor of the varied menu of music to which he had become accustomed. He continues to play on and off with The Vandals and Paul Westerberg, while consistently getting involved with new projects that turn him on, such as A Perfect Circle, whose debut album, Mer De Noms, garnered critical acclaim right out the gate, and an offshoot called Tapeworm.
"Almost every one of my heroes I've tracked down, become friends with, and gotten to work alongside of," Josh says. "A lot of those people don't make a ton of money, but as a fan, a kid who was always more into the underdog, that's the music I fell in love with. Before there was alternative music, I was into it. I've gotten to work with people who I consider to be true artists, and to me that's way more rewarding than the big money. I've played with some big-money people, too, but that's never the motivation." Advertisement

MD: How do you explain the seriousness you had about your instrument and career at such an early age? You were considered a bit of a child prodigy.
Josh: I was infatuated with music and drums at an early age. I come from a pretty musical family. My grandparents on my dad's side both taught music in school, my mom is a classical pianist, and my dad, who is mainly a tuba player, was conducting the band down at Disney World in Florida when I was born. Thank God he was transferred to the California Disneyland when I was six months old.
There was so much music in my house. My earliest memories are watching my dad conduct the big band and jazz band at Disneyland. I remember getting a trumpet for Christmas when I was six, and I played that for about four months. But my dad had an endorsement with the brass department at Yamaha, and somehow he also had a drumset from them, which was up in our attic. It was a Yamaha Recording series kit, which is a pretty extravagant first kit.
The earliest pictures of me playing were when I was seven or eight, standing, with huge '70s headphones on, with a snare drum and a cymbal, Stray Cats' Slim Jim Phantom style. That might have lasted about a month before I got the nerve to ask my parents if we could bring the whole drumset down from the attic. Advertisement
I remember my dad sat down behind the drumset and played the simplest 4/4 beat, and it sounded like a record to me. He told me to try it, and I was able to do it right away. I started playing to Van Halen, Queen, and Devo records. It's ironic that I've gotten to play with Devo; It's such a dream come true to play with people I've admired since I was in first grade.
I never really noticed that music and drumming was this big serious thing for me. But my mom remembers how I'd get up at 7:00 A.M. to call Zildjian on the East Coast before I went to school. I'd be talking shop with [veteran cymbal expert and artist relations manager] Lenny DiMuzio when I was in the fifth grade. I just think I had a lot of determination then and, really, I still feel that same drive now. I'm still trying to improve, and I never take anything for granted. It comes down to my feeling so fortunate that I can do what I love for a living. You don't have to be rich and famous to feel successful or feel good about your work.
I'm really happy about where I'm at and where I've been. Working with people like Devo and Paul Westerberg from The Replacements, people I've been a fan of, is much more important than working with whatever big names in music you can mention. I just recently got to play with a band I'm a huge fan of, Ween. I made less money on that record than I have on any other record I've done this year. But artistically and creatively it meant more to me than anything else. Advertisement
MD: To what do you attribute your success as a studio player?
Josh: I think it's a combination of being into a lot of different kinds of music and understanding a lot of different kinds of music, and being open to things. I still feel that I have a hunger and a fire inside of me. I'm not jaded. I mean, I've been touring since I was fifteen, so sometimes I roll my eyes about something. But I always catch myself. If I'm complaining about something, I'll laugh and go, "Why am I complaining about the food backstage? Who cares? I'm in New York City tonight, playing music for a living."
I think the fact that I still love playing music makes a difference. A lot of it, I think, has to do with the fact that I got less into the circus tricks and more into people like Keltner, Jordan, and Porcaro. I think what also was important for me was playing other instruments and songwriting. I'm just as inspired by songwriters as I am by drummers, which can't help but come out in my drumming.
It's important to draw inspiration from whatever you're inspired by. And it's important to understand what's going on around you, as far as what the bass player is doing, what the lyrics are saying, and what the guitarist is playing. Listening is all-important – listening to music in the car, going out and hearing people play, and then when you're in the studio, listening to what's going on around you and being supportive of that, being a team player rather than a hot dog. Get into country music, punk rock music, everything – Willie Nelson, The Ramones, Elvis Costello, Tom Petty. It's so important to be open. Advertisement