System Of A Down Drummer John Dolmayan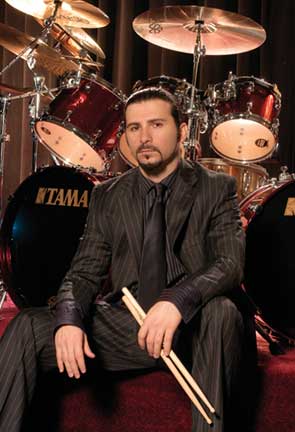 'Ever since I was a kid, I knew I was destined for this,' says System Of A Down drummer John Dolmayan. 'I used to go to shows and think, 'I'm going to be on that stage one day.' It's really easy for me to say that now, but I knew it back then. And if you talk to people who knew me back then, they'll tell you the same thing.'
The "this" Dolmayan is speaking of is his place in life today as an immensely successful modern rock drummer for the multi-platinum Los Angeles-based group System Of A Down.
Nearly four years ago, Dolmayan and his band released the Rick Rubin-produced Toxicity, a blistering collection of material that was anything but the traditional sophomore slump. It offered some of the wildest and most intriguing singles to hit modern rock airwaves in recent memory. (If you doubt this, go back and give a listen to 'Chop Suey,' 'Aerials,' and 'Psycho.')
After an intense, multi-year tour schedule in support of Toxicity, System headed back into the recording studio last year to begin work on the follow-up to their most successful album to date. With sessions again helmed by Rubin (whose credits include Slayer, Danzig, and The Beastie Boys, among many others), Dolmayan soon found himself testing his own skills and pushing his limits – largely with incredible results. In fact, these sessions were so prolific that they yielded a double-album's worth of material, which will be broken into two separate releases, titled Mezmerize and Hypnotize. Advertisement
The new music is quite a wild ride, something Toxicity only hinted at back in '01. For example, the intricately composed 'Kill Rock 'N' Roll' catapults with an imposing tom intro, eventually breaking into some Bonham-esque kick patterns, before finally capping off with an unexpected, frenzied crash/snare sprint. And that's just one of several examples of Dolmayan's impressive kit work on the new releases.
Most drummers would've given up a dozen bars into a composition as involved and demanding as the aforementioned one – or frankly, just about anything in System Of A Down's repertoire. But Dolmayan's tenacious spirit, coupled with a thirst for constant learning, has molded the drummer into a world-class, albeit rather humble, hard rock powerhouse. 'Believe me,' he says, 'if there was no System Of A Down, I'd still be trying.'
MD: How did the sessions for the new albums differ from those for 'Toxicity'
John: I think the major difference between this session and the Toxicity session is that we did this one at Rick's house instead of a traditional studio, which made a big difference in how the drums sound, which drums were used, and especially what snares were used. I used a completely different setup. I kind of accommodated my playing style to the music that was being written. Advertisement
The recording process this time took considerably longer. Last time I did my drums in six days, but this time I didn't have that luxury because we weren't finished with pre-production when we went in. The last time, I had three weeks of playing the songs every day, kind of like preparing for a show, except we were preparing to record. This time, we were still doing pre-production. We'd bring in a song, Rick would go over it, and then we'd try to play it the best we could. Then we'd have to re-write certain parts. So it was a much slower process. In the end, I think that both ways worked well. The sessions for Toxicity worked really well, because that's where we were at. But for these new albums, we had to take a totally different approach because it's totally different music.
MD: What was your drum setup this time around?
John: The configuration was different; I used two actual kick drums, which was interesting because I'd never done that before. It's like jumping into someone else's bed; it's still a bed but you've got to get used to it.
MD: Was that a feel thing or was it more of a sound issue?
John: Well, I never really considered myself much of a double bass player. I've always concentrated more on my hands than on my feet. Unfortunately for me, or actually fortunately for me, the new music called for more double bass stuff. It forced me to get into a different area. And I felt that two bass drums would sound better tone-wise than a single drum with a double pedal, so I switched to two. Advertisement
MD: How much involvement did Rick have on your drums?
John: Rick had a lot of good suggestions, and I left it up to him and Daron [Malakian, System Of A Down guitarist] to help me select my snare drums. A drum will sound one way to me since I'm on top of it, but it will sound totally different in the control room. So I collaborated with them and we came up with some really cool sounds.
MD: Your snare has a very different vibe than the drum you played on Toxicity.
John: It's a wood snare, as opposed to last time, when I used a bell brass.
MD: Yes, the Toxicity snare seemed much drier, as opposed to what you have nowadays, which sounds meatier and thicker.
John: You're going to get that with a wood snare. Also, the room had a lot to do with the sound. Plus you have to take into consideration that the music is significantly different. We always like to think it maintains a lot of the characteristics of System Of A Down, which it has to, since it's us playing. But I think the music has grown in a lot of ways and it's a lot more diverse.
We're always trying to outdo what we did in the past. So in order for that to happen, you have to make changes in your sound and you have to grow with the music. So we needed something that had a little more depth to it and had a warmer sound, and I think we accomplished that with the wood snare. Advertisement
MD: Will you be using this new configuration on stage?
John: Yes. It's a Tama Starclassic kit, which sounds great. Starclassics always sound really good, man, especially live. As for the snare drum I'll use on stage, I'm thinking about the bell brass.
MD: What's your cymbal setup?
John: I use Paiste cymbals, mostly from their Signature line, but with a couple of Dimensions in there as well. I've got some big cymbals, 24s and 22s. And the bell on my 22″ Dimension Mega-Bell ride is almost the same size as my old ride! But the Mega-Bell sounds great and really cuts through.