Daniel Glass: Royal Crown Revue – Playing With Fire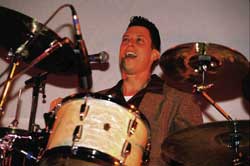 Daniel Glass says leaving a major record label has had a lot of ramifications for Royal Crown Revue. But the main reason they did it was to have freedom to make their new record, Walk On Fire, the way they wanted to make it.
"We wanted to sonically match the eras of music we draw our inspiration from," says Glass. "The word 'swing' has been so overused. The swing era lasted for about ten years, from the mid-'30s to the mid-'40s, but we draw from the '20s through the '60s.
"We worked with Mike Napolitano," Daniel explains, "who has produced The Squirrel Nut Zippers, Blind Melon, and Daniel Lanois. We spent a week just finding a great live sound. We used RCA 44 ribbon mic's, which are actually from the '40s. Our horn players exclusively used one mic' and learned how to work that mic' because that's the way records were made back then.
"I used a 1950s Gretsch Round Badge kit," Glass continues, "and vintage gear I've been collecting since I joined the group six years ago. I have these crazy effects cymbals called Pashas, which were made in Italy in the '50s and '60s. They're kind of obscure, but I used them on a lot of the tracks."
Once the band got their sound together, Glass says, it only took five days to record the tracks. "There are a couple of really kooky songs," he explains. "The last track on the album is called "Mr. Meschugge,' which is very 1920s. I love that song because it's done kind of like a Raymond Scott piece. I call him "The 1920s Frank Zappa,' because he was doing rhythmic and harmonic things that were extremely revolutionary and 'outside' for that time. A lot of the Warner Bros. cartoon music you hear is his."
Glass says that although he's been a member of this unit for six years, they do such a variety of work that he feels as though he gets the same experience as a freelance agent. "We're lucky because we can do everything from the Warped Tour to the Hollywood Bowl with an eighty-piece orchestra. That's unbelievable. We did seven major jazz festivals last year. We also recorded a couple of tracks for Bette Midler's album and played with her on the Billboard Music Awards. What's cool is we're able to make a living doing all of these diverse things and not be dependent on radio, a record label, advances, or tour support."