Clarence Penn – Classical Chameleon, Jazz Journeyman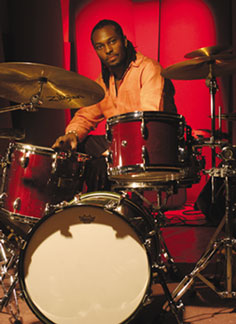 Clarence Penn's third album as a leader is called Somay, a word whose roots lie, as do many elements of contemporary music, in Africa. "It means being in the center of the vibe," Penn explains from his comfortable Brooklyn apartment. "It's like when you see your favorite jazz group perform and there's that vibe coming off the stage as if they can't do anything wrong. They're in the moment, the energy is going around, and everybody feels it."
As he has shown with an increasingly wide cast of musicians he has performed, recorded, and collaborated with, Clarence Penn is a drummer for whom somaye is a guiding principle and ultimate goal. Where many drummers, even great ones, come to the gig with a highly developed personality (that they then impose on the music), Penn approaches every gig with an equally capable set of tools, but his ID is utterly transparent and in service of the music. No question, Penn is one of the most flexible and chameleon-like drummers to ever stroke the skins.
And stroke them he does. Alternately described as "a soft drummer," "a textural master," and "masterful and mind-blowing" by the world press, Penn is the first-call for an eclectic list of musicians. Penn has been a member of tenor sax master Michael Brecker's touring band since 2000 and a collaborator with Japanese pianist Makoto Ozone since 1997. (In fact, the trio of Ozone, Penn, and bassist James Genus are quite famous in Japan and regularly appear in TV ads.) Advertisement
Penn followed in the lineage of other illustrious drummers, having kicked off his career with a multi-year stint in Betty Carter's group. He then began working with a diverse list of artists: Stanley Clarke, David Sanchez, Ellis and Wynton Marsalis, Jacky Terrasson, Dizzy Gillespie, Dianne Reeves, Cyrus Chestnut, Stephen Scott, Steps Ahead, and Mike Stern. And this was all before 2000.
Bringing his transparent, warm style to various gigs that would usually require multiple drummers, Penn currently works with Brecker and Ozone, plus The Maria Schneider Big Band, Brazilian flame Luciana Souza, progressive-minded leaders Dave Douglas and Adam Rogers, and French romance saxophonist Richard Galliano. The drummer is also in demand in the studio, having appeared on over fifty albums thus far, including vibraphone great Gary Burton's latest offering, Generations. In any setting, Penn shows a mastery of colors and an allegiance to style and idiom.
Classically trained at Michigan's Interlochen Academy and Virginia Commonwealth, and jazz-tested in the Betty Carter furnace, Penn is a perpetual student of the instrument who creates practical solutions to his own drumming challenges. He has practically created his own brush language, and his deep understanding of the mechanics of technique and sound extraction are unique, to put it mildly. Advertisement
"It's important that people know my versatility, sensitivity, and professionalism," Penn states on his Web site, www.ClarencePenn.com. "I'm very serious about what I do, and I want people to know that I can do the job that I'm called to do."
But for all his technical mastery and interpretation of classical, hard-bop, funk, experimental, and Brazilian styles, Clarence Penn is one of the most humble musicians you could ever meet. And if being a major-league drummer isn't enough, Penn is also a producer, having done projects for Wyclef Jean and Melissa Walker.
You have been warned. Now prepare for Clarence Penn, skills master extraordinaire.
MD: You're an extremely versatile drummer, yet you don't place your personality on the music.
Clarence: Some players have chops that they impose on the gig. But I try to suss out what I think the vibe of the gig or record date is and make what everybody else is doing sound better. I'm a team player. Advertisement
MD: You have tremendous brush technique. On "Sofi," from Makoto Ozone's The Trio, you go from brushes to sticks in your solo, but there's no loss of "presence" during the changeover.
Clarence: I want those transitions to sound seamless. I've heard recordings where you can hear the drummer's sticks click together in the changeover. That demystifies the whole thing. The brushes should just morph into the sticks. And I always try to keep the momentum going.
When I'm soloing with brushes, I'll start an idea that I can keep going with one hand while I reach for a stick with the other. I might be soloing and then do this thing I heard Philly Joe Jones do once. [Clarence picks up a brush and flutters it with one hand, using a controlled rebound so that it vibrates very quickly on the head.] You can hold the listener's attention with that and switch from the brush to the stick in the other hand. It's a bit like magic. You don't notice the stick being picked up. I also set up a trap table on which I keep my sticks, brushes, and some small percussion items. Having that right next to me makes the transitions easier. Advertisement
MD: Your brush technique is impressive. How did you develop it? Did you practice the rudiments with them?
Clarence: I practiced rudiments, but I didn't overdose on them. I used to try to figure out what would be the natural thing for the brushes to do, as opposed to trying to keep my hands up high and playing really staccato. I would sit in a room and practice playing brushes on a record cover or a magazine and try to come up with different movements or combinations that would be more natural for brushes.

MD: What are some of those combinations?
Clarence: As far as the direction of the sweep, I started playing clockwise because I read it in a book. And that was how I initially learned traditional grip – I saw it in a book. I switched to matched grip after doing Betty Carter's gig because Stanley Clarke's gig required more slam.
I worked a lot on slides and sweeps with brushes. I also practiced more staccato sweeps instead of just strokes. To me, various sweeping motions are very natural to brushes, instead of your typical up-and-down stick movements. Advertisement
I never did the backwards sweep until I moved to New York and saw Greg Hutchinson do it. He learned from Kenny Washington that you actually get a bigger sweep sound by using a backwards stroke. Kenny gets a huge sound.

MD: Besides jazz, you cover Brazilian music with Luciana Souza.
Clarence: That's a completely different head. It's a feeling. Brazilians have that joy, that vibe that they bring to the music. I want people to be able to understand what I'm doing, but I don't want them to say I'm only a bebop drummer or only a funk drummer. If I play only one style well, cats will just call me for that style. I want to be on that 'can play any gig' list.
Ken Micallef