Chuck Morris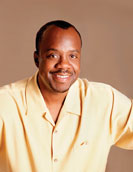 On the cover of Standing On A Mountain, the new record by Chuck Morris & Freedom, it states "new reggae style." Explaining this assertion, Morris says, "A lot of people who hear the band or the record will say, 'I'm not a fan of reggae, but I like what you do,' and I think that's because we combine a modern funk attitude, jazz horn lines, and other contemporary elements with the root style of reggae. It's more aggressive and a little more exciting, which grabs people."
On this project, drummer Morris wrote many of the songs and supplies the vocals, but he says he couldn't have done it without his bandmembers Cico Silva (trumpet), Aragorn Wiederhold (guitar), Matt Woodworth (trombone), Dre Gipson (keyboards), Ernie Munoz (saxophone) – and Arsenio Hall, for that matter.
Chuck's former boss shares a funny dialog with Morris at the top of the record about funk, "like in the old days, ten years ago," when Chuck was the house drummer on Hall's TV show. Advertisement
Besides taking a very funky, soulful drumming approach, Morris also stretches out at times. "I think listeners are going to get a good deal of variety from this record," he predicts. "They're going to enjoy hearing a live record with full-on band and horns. And most people may be surprised to hear me singing. But I also made sure to give drumming fans a taste of what I can do on the kit."
The record is currently available at live gigs.