Phoenix's Summer Odyssey Tour: See Photos and Read Q&A with Drummer Thomas Hedlund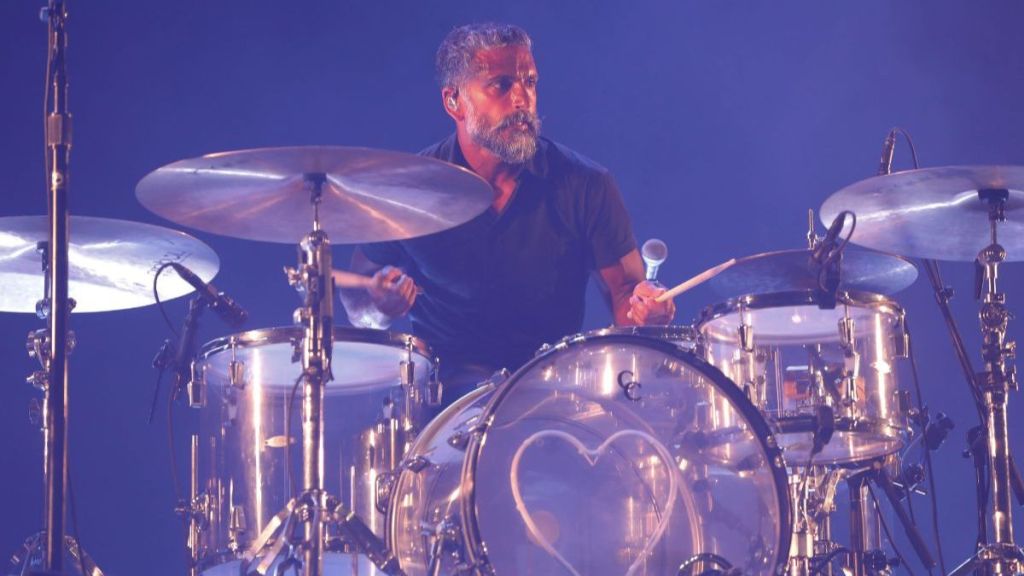 By Alex Kluft
Beck and Phoenix played the KIA Forum in Los Angeles, California August 7th for their co-headlining venture, the "Summer Odyssey" tour. Alongside Beck is drummer Joey Waronker (Roger Waters/ R.E.M.) who has been recording and playing with Beck since 1996 and with Phoenix is Thomas Hedlund, who has been the group's live and studio drummer for nearly 20 years.
Phoenix opened with their Platinum single "Lisztomania." The show features the same dual screen, with one serving as a frame and another screen behind, as they did on their tour last year. Phoenix played a 19-song set full of hits like "Entertainment" "If I Ever Feel Better," and "Ti Amo." "Everything is Everything" was played for the first time on this tour. The second-to-last song was "1901," and singer Thomas Mars walked through the crowd all the way to back and crowd surfed back onstage. Their set ended with "Identical (Reprise)."
Beck played a set of 20 songs beginning with "Devils Haircut." Beck is not only a great writer, singer, and musician, but a great performer overall. The graphics on the screen played a major part of the show. Beck's set included his most famous song "Loser" and other hits like "E-Pro," and "Que Onda Guero." The second to last song was "Odyssey," and Beck and his band were joined by Phoenix. For the final song, "Where It's At," beach balls were thrown out. Advertisement
Ahead of the show, Modern Drummer spoke to Phoenix drummer Thomas Hedlund to discuss joining the band many years ago, his set up for the "Summer Odyssey" tour, and how the band linked up with Beck for this special co-headlining tour.
Read the Q&A with Thomas Hedlund, and see below for photos of Phoenix and Beck's show on August 7th at the KIA Forum in Los Angeles.
Modern Drummer: Let's start with how you came into the group being in Sweden and the group in France.
Thomas Hedlund: My band Deportees, that I still play with, opened for Phoenix for a few shows in Scandinavia, because we had the same label back then. The band handpicked us for that tour. When we played the summer before we toured together, they seemed excited about those shows. I guess they liked my playing and subsequently asked if I wanted to start working with them. I had been listening to their music and was already a fan.
MD: What is your set-up for this tour? I believe it's the same from last year.
TH: Yes it's the same. C&C Drums (clear acrylic), Istanbul Agop Cymbals, DW Hardware, Wincent Drumsticks (Swedish brand) and Remo heads.
MD: In the L.A. area, Phoenix has played multiple nights at the Fonda Theater to playing the Hollywood Bowl, and this will be the second KIA Forum performance this year (the other was iHeartRadio's Alter Ego festival). Do you prefer a run of shows at smaller venues, or one show at a larger venue? Advertisement
TH: I'm fortunate enough to love playing in any capacity . The boring answer is that they all have their own charm and it's all about creating an emotional space, which I'd like to think that we do. If I had to choose, I'd say 1500 cap is probably the most fun. It's still a lot of people but it's more intimate, in a way. I enjoy that — although playing bigger places is obviously super cool too.
MD: You've played on all the Phoenix albums since 2006. What year did you become their touring/recording drummer?
TH: The first thing I did with them was record an album in Berlin in 2005. I've been playing with them ever since.
MD: Almost 20 years.
TH: Exactly, we're getting old.
MD: Of the albums you played on, what do you consider to be the biggest hit(s)?
TH: "1901" and "Lisztomania" from the Wolfgang Amadeus Phoenix album. That album [overall].
MD: What is the connection between Phoenix and Beck?
TH: He was kind enough to join us for a couple of songs at the Fonda [Theater] and the other guys have known him for a while. I don't know if it started back then, but they've been talking about doing something together. Then, they did a track together, "Odyssey." It's super fun, everyone is so excited about doing this performance. He's a bit older than I am, so I sort of grew up listening to his music as a teenager.
Photo Gallery: