John DeChristopher Live From My Drum Room – Remembering Lennie DiMuzio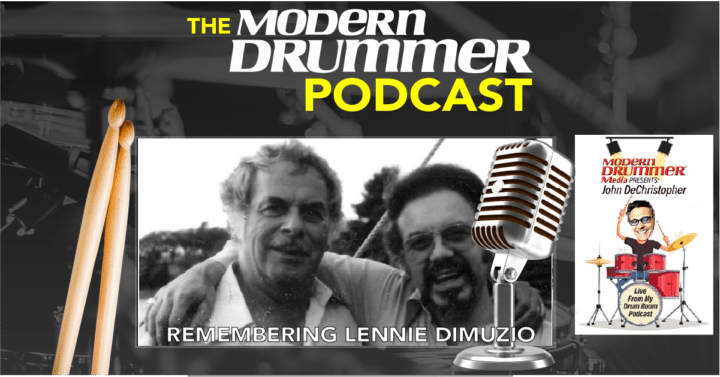 A special episode of Live From My Drum Room remembering Music Industry icon and Artist Relations pioneer, Lennie DiMuzio! Lennie is best known for his 40+ years working at Zildjian, most notably in Artist Relations, as well as other key roles, and John is joined by Lennie's daughter, Therese DiMuzio, and old friends and Zildjian alumni Colin Schofield, Jerry Donegan, Paul Francis, John Sorenson and Bill Morgan, along with Rob Wallis of Hudson Music, DCI Video and Drummers Collective. The group shared stories about Lennie during their time working at Zildjian, many involving Lennie's storied friendship with the legendary Armand Zildjian. The recurring theme throughout the episode is how much Lennie loved working in the Drum Industry and with drummers, and how much he was loved by everyone who ever met him. They also talk about Lennie's hilarious memoir, "Tales From The Cymbal Bag" which is still available through Amazon.com. Lennie passed away in March 2015. He would have celebrated his 90th Birthday on May 4th. Watch for a future episode with legendary drummers remembering Lennie DiMuzio!
Check out John's other show, "TrackTalk" on YouTube @livefrommydrumroom and all Podcast platforms!
Audio
Powered by RedCircle
Video