The Modern Drummer Podcast Episode 17: Narada Michael Walden & Will Lee.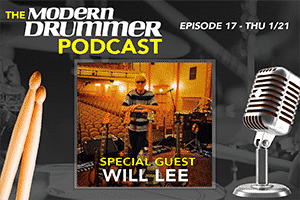 + Shop Talk featuring the Doc Sweeney Pure Series Oak Snare
In this episode, Narada Michael Walden interviews former drummer and world-renowned bassist Will Lee. With more than 1,700 songs in his professional catalog, Will takes a journey through his childhood, family, his influences in drumming and why he decided to start playing bass. During the interview, Will shares tales from the road, collaborations with other artist, and gives valuable advice to drummers and musicians. Lastly in the Shop Talk segment, Managing Editor Mike Dawson reviews and plays the Doc Sweeney Pure Series 5.5×14 Oak Snare.
Audio
Video