The Modern Drummer Podcast Episode 15: Narada Michael Walden & Randy Jackson.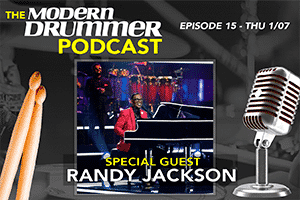 Roland VAD506 Drum Set product review & more.
In this episode, Narada Michael Walden interviews record producer, music manager, and musician Randy Jackson. The conversation begins with Randy telling how he and Narada met and the records they have worked on together. Randy also talks about the importance of feeling the music and the rhythms, and some of the people who inspired him, Freddy King, Elmore James, and Chuck Berry, who from the blues rhythms captivated his ears and his heart. In the Shop Talk segment, managing editor Mike Dawson reviews the Roland VAD506 Drum Set and plays a demo.
Audio
Video