The Modern Drummer Podcast Episode 14: David Frangioni & Billy Amendola with Mickey Curry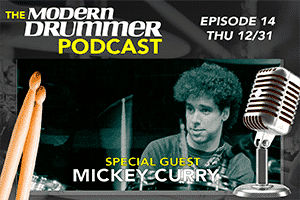 + Dawson's Shop Talk interview with Steve Stecher & review on two Doc Sweeney snares.
David Frangioni & Billy Amendola talk with Mickey Curry about his career & records, his way of playing the drums, and the set he uses. Mickey dives into the recording sessions the influence of Ringo Starr, Bernard Purdie, Bennie Benjamin, and more. In the Shop Talk segment, Managing Editor Mike Dawson interviews Steve Stecher, founder of Doc Sweeney Drums. Together they discuss the company, the concept of how they make drums, and the background of two of their products, the Blackwood Snare Drum and The Rosewood Snare Drum. The segment ends with Mike playing a demo of the two snare drums.
Audio

Video