The Modern Drummer Podcast Episode 2: Mike Dawson & DJ Johnson.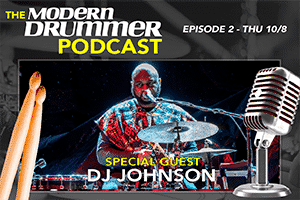 Episode 2: Khruangbin's DJ Johnson, Evans UV Series Drumheads, and More
In this episode, managing editor Mike Dawson sits down with August 2020 Modern Drummer featured artist DJ Johnson of Houston-based psychedelic funk band Khruangbin to dig deeper into the various topics that were discussed in his recent story in the magazine. Everything from his background as a church musician to how he achieves his deep, soulful sound are covered. In the Shop Talk section of the show, Dawson interviews Evan, an artificial intelligence representative from Evans drumheads, to get some insight into the innovative UV1 and UV2 series. The episode concludes with an audio comparison of the UV1 and UV2 drumheads.