On The Beat with Whit Sellers of Old Dominion: Talks Playing Strategy and Equipment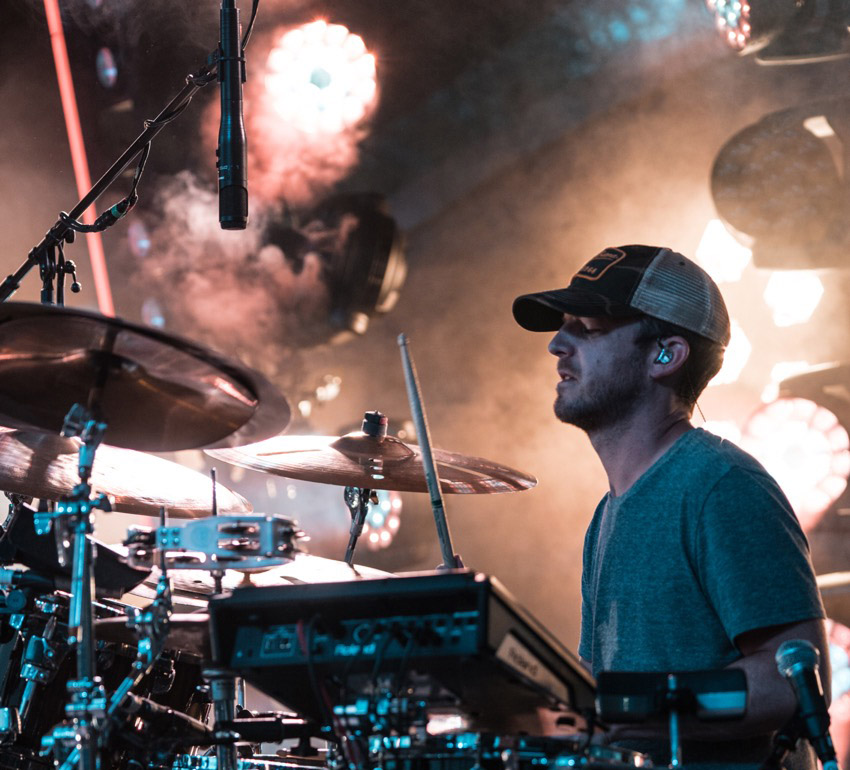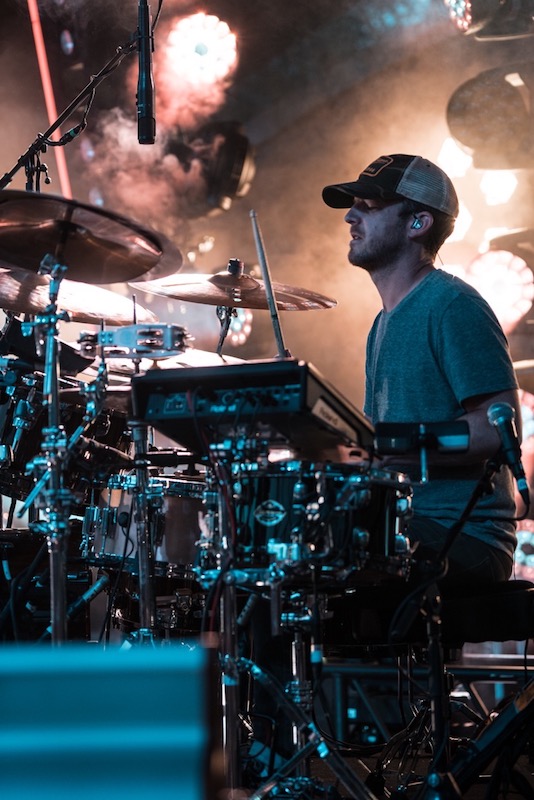 Hello MD! I play drums for Old Dominion, and I'm writing this from the Greek Theater in Los Angeles, where we will play ahead of popular country music artist Thomas Rhett.
OD has been touring relatively non-stop for the last three years, and all that playing has allowed us to hone our live performance. We often receive compliments on the sound, and that has mostly to do with a talented crew and FOH engineer. But for my part there is a definite strategy involved when it comes to dialing up big drum sounds. I use a Tama Starclassic kit made of 100% bubinga, an extremely dense and strong wood native to Africa that can be used to create a drum tone that is extra "punchy" and articulate without undesirable sustain. Bubinga also excels at low tunings, and I try to find the lowest fundamental tone each drum will produce in order to take full advantage of all the subwoofers at my disposal.
We are also using Pintech rs-5 external triggers on all the drum shells to operate gates, a controversial subject among drummers but a pragmatic decision in our case. I like to keep the cymbals close to the drums and sometimes I hit them too hard, which makes it more difficult to isolate instruments and take the drum mix to the proverbial "next level." This is particularly true when the venue is an NFL football stadium, as it often was over the last two years while we were touring with Kenny Chesney. I would be uncomfortable moving the cymbals higher and changing my ergonomics too much, so using the triggers has helped our engineer to mix more aggressively in these really large spaces without sacrificing my experience while performing.
Beyond equipment choices, the parts I choose to play are also a piece of the strategy. My favorite type of drum part to write is one that might be technically challenging but also fits seamlessly into the music. I love playing abstract, intricate patterns, but often I find I need to simplify grooves so the rhythm will be more obvious. In the context of our music, simple parts often come across as far more dramatic than ideas involving lots of notes. Occasionally, more abstract or technical playing works, such as in the case of our song "No Such Thing as a Broken Heart," which utilizes a weird version of a calypso beat, but I usually end up stripping down my more complicated ideas. Advertisement
Luckily there will be more opportunities for us to continue learning on the job as Old Dominion carries on with Thomas Rhett's Hometeam tour throughout the fall in the United States and in the UK. Hope to see you out there!
Thanks for reading and thank you to MD for having me "On The Beat!"
For tour dates and more, visit http://olddominionband.com/home/.
To watch the video for the hit single "No Such Thing as a Broken Heart," go to
Photo by Mason Allen